Had a rare weekend day off for the Easter Holiday and what better way to spend it than out riding with a friend and making OPEC richer with the wanton burning of fuel. But damn its fun!
We decided to meet at the usual spot in Strasburg at 7am. I had a nice route all planned out in the Garmin to go visit a couple spots in Maryland and Pennsylvania that I had never been to. Might be a little over 400 miles when all said and done. Yeah sure it will be...
So I fire up the Garmin and off we go. Here was the first mistake of the day, trusting the Garmin. As we head down 77 South I was supposed to follow 250 to 800, wrong! I stayed on 77 because the Garmin told me to. Guess I should have checked the route a little better before I downloaded it into the unit.
Anyways, here's nice shot set against the morning sun rise of our beloved hero riding up beside me to take a picture of me on the new ride. Yeah, yeah... not the best picture in the world.
Cruising down 77 south I turn on the bike's radio, yes you heard me right, I turned on the radio. Still don't like it that much, but sometimes its not so bad on the interstate. Mr Garmin tells me to get on 40 east, well there was a slight problem there as the exit ramp was close. Detour one.... So we keep going for a while and we get off at 313 east.
We followed that until Mr. Garmin, well maybe its Ms. Garmin since she has a soft Aussie accent, told me to get onto 506. We followed that for a short while and turned more south on 513. This is where Mr. Garmin started acting up for the day. Of course we should be on 800 south but we're still trying to get there.
As we cruise down 513 Ms. Garmin keeps telling me to turn left onto dirt roads, I don't want to travel dirt roads. Its supposed to ignore dirt roads! Yeah sure it did. So I keep ignoring it and making it recalculate. Good thing I did! 513 turned out to be a great road! Hills twists and turns and some nice scenery along the way. This brought us to 78 east which is what we were shooting for anyway by riding 800 so not all is lost.
Here's a couple nice shots I took along the way. Look out for the buzzard!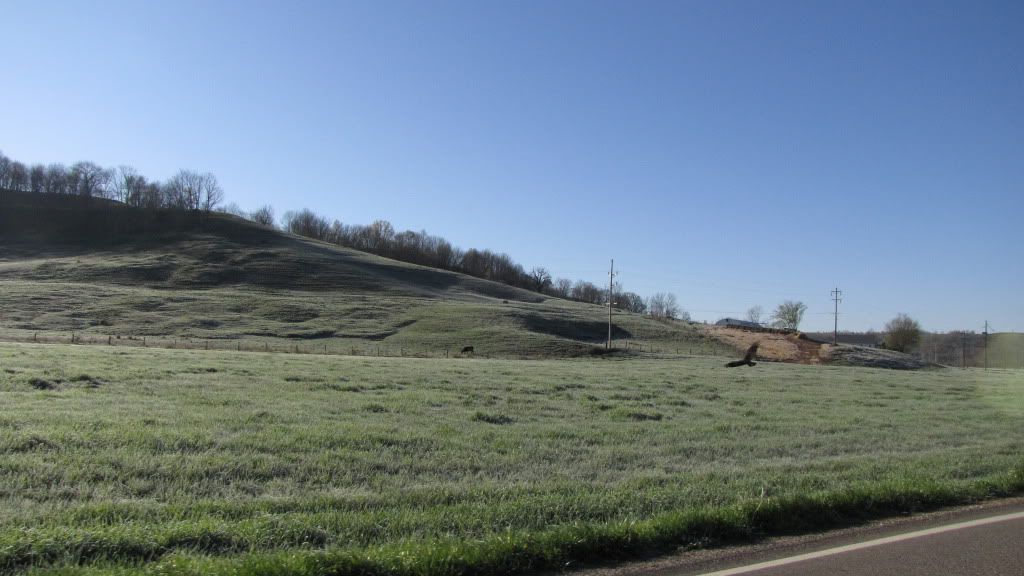 We made a short stop in Woodsfield for some eats and bull session. This is where we decided to change our plans. Alan brought up a big dam over by Grafton West Virginia and route 20 was really good a few years ago. So why not?
We stay on 78 until we reach the Ohio River and stop for gas before we cross. Here's a shot of the locks as we crossed.
20 could be a great road. In spots it was really great, but some areas of the road were just horrible. One big dip in the road was nasty. Hit the brakes hard enough to get the ABS to work. But did manage to get a few shots of Alan carving up the asphalt.
Forget what town we were in but I got a nice shot of this old train trestle.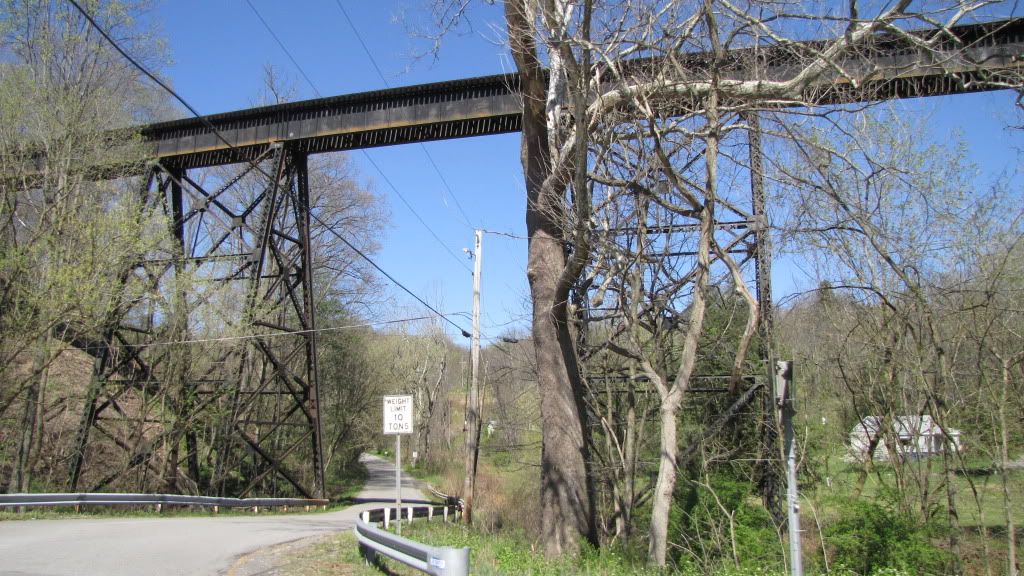 Then a short bit later this cool dirt devil came up in front of us. The cars ahead of us were actually slowing down to miss it. If you look just left of Alan you can see it. Had I been able to get the picture before it got on the road it was quite impressive!
We got on 50 in Clarksburg and followed it to Grafton. Then took some no name super tiny road until we got to Tygart Lake. It will be a lot prettier once the trees are all filled out. But here's a couple shots from the area.
Here is the dam built back in the 30's. Just out of sight of the picture were a couple people on kayaks. Crazy!
This picture is a mandatory shot of the bikes.
This is looking back at the dam way off in the distance. I sent this via cell phone to several people and one was so mean. He said I hope your phone breaks. How rude! I won't mention his name on here
***cough*** Dan ***cough***.
LOL It worked too had lousy reception the rest of the day and couldn't send any more.
Leaving the park I took the lead again and was still foolish enough to follow Ms. Garmin's lead. But the roads weren't marked for anything to find your way out. We took some little tar and chip roads and a turn around because she said go right and meant go left. Don't you just love a woman navigator?
We managed to find our way back out to 50 and now we are off to Swallow Falls State Park just inside Maryland to see some waterfalls.
We stayed on 50 until we reached 92 north. Followed that for a while and turned on 7 east. Then in Terra Alta things got more interesting.
Ms. Garmin told me to turn north on some small tar and chip road, ok no problem lots of good sites usually. Then a turn here and a turn there then we are told to turn on another dirt road. No avoiding this one so we pull on and I stop and make sure Alan is good with it. He was and needed to reload the camera batteries anyway.
So off for about 3 miles of dirt trackin on the new bike. I am weaving here and there trying to avoid all the bad spots. Only to find out later I kept putting Alan in my dirt trail. I had to laugh because it really wasn't intentional. Not that I minded...lol
We stopped right before we got off the dirt road. I looked over and told Alan we are now in West Virginia and Maryland at the same time. Right after that we found pavement again! But not long after she tried to steer me off road again. I ignored the Garmin and kept going. Glad I did because it lead us right to the park after that.
We had to pay 3 bucks to get into the park, but it was worth it.
They had three falls there that we visited. Here they are along with a video of the bigger one.