When I asked everyone if they wanted to do a group ride on Sunday the forecast was for partly cloudy and low 60's. Of course that was 10 days in advance and over the next 10 days the forecast was for a complete wash out and then back to 50's to low 60's. But again the weather guessers can't come close. We had low to upper 40's almost the entire day with heavy overcast. But you know something? It was way better than being at work!
We started the day at the Goasis in Ashland where Alan and I met up for our ride south to the Iron Pony. There were a few of Ashland's finest Police Officers there having breakfast or something. One of the greats has so little respect for the tax payer of Ashland he left his cruiser running the entire 20 minutes I was there. He was there before me and was still there when we left. If anyone from Ashland reads this it was car A-5.
Alan and I had a nice uneventful ride to Columbus and got to the Pony plenty early. We weren't sure if Ed or Rob were going to make it but we knew Dan was on his way. As time went by I see Rob getting ready to turn in! Great hadn't ridden with him in a few years. Just behind Rob comes Dan and then to my surprise Ed made it after all!
So the group all assembled now we had to wait for the store to open but it gave us all a chance to catch up and show off the new ride.
Here are all the bikes right before we saddle up and hit the road. With me in the lead. Who's idea was that? Not mine...lol
We made our way to State Route 374 to the oh so familiar Old Man's Cave area. Can't seem to get tired of riding down that way. Here's a few action shots. Managed to get Alan out front after a short stop before we hit 374.
We made our way through the twisties until we reached Old Man's Cave and parked the bikes for a bit for some of us to warm up. That would be the guys without heated grips. Poor boys...lol
We walked over to the upper falls for some bull and photos. There is this big hole in the river below. Dan said he was there once and dropped his..... uh.... now what was it he said? Oh yeah his wallet and it created that hole in the stone. Postal workers must be way over paid. lol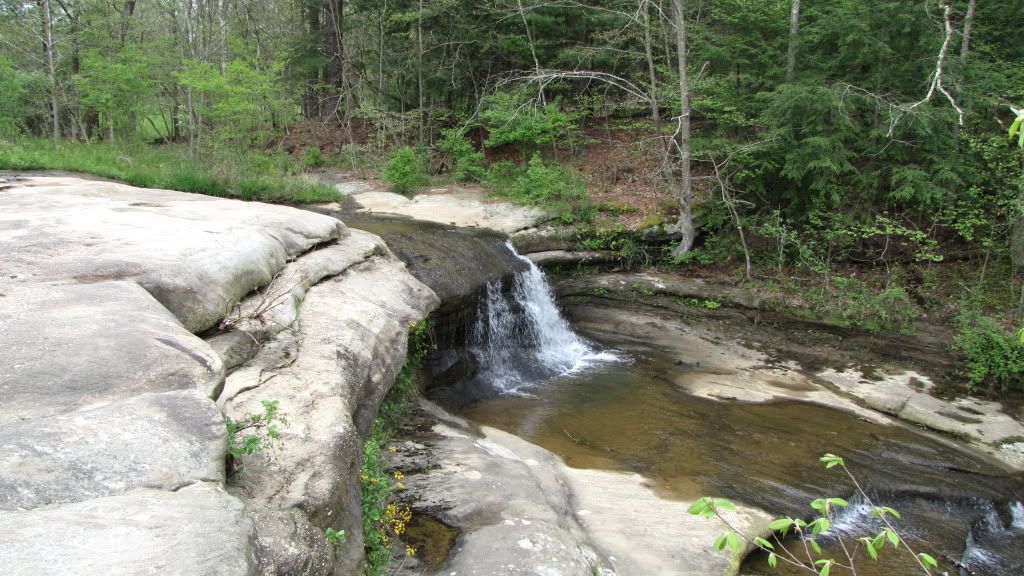 At this point Ed had to leave us and head back home for some family business so we parted ways and the rest of us continued onto 56 to Obetty's.
More action shots on our way.
Took a while to find a place to park in Athens. Not sure what was going on, but the place was packed! Then we tried to new Obetty's just to find they were only serving breakfast. So back to the original for some dogs and fries!
Leaving Athens we head out 13 to pick up 70 to start the ride home. Along the way we pass this Civil War General. Can't say I had ever heard of him, but I am not a Civil War Buff so my knowledge is lacking. Got a nice short video of us riding lazily along with a little sound effects from the bike's audio system.