She had a rare two days off in a row so when I had heard that I made the suggestion we head to southern Ohio and spend the night at her Dad's place and they go ride West Virginia the next day.
I pick her up on the bike and we're on our way by 9am. Our first destination is the Iron Pony. I wanted to check out some gloves and rain over boots. A little over an hour later and we're spending money at the pony. LOL At least I have some summer rain gloves now.
We get back on the road and head for Cantwell Cliffs in the Hocking Hills Recreation Area. Yes we were just in the area on Memorial Day, but how do you get tired of this scenery?
We get to Cantwell and walk back into the cliff area. I snapped some pics of the huge rock formations.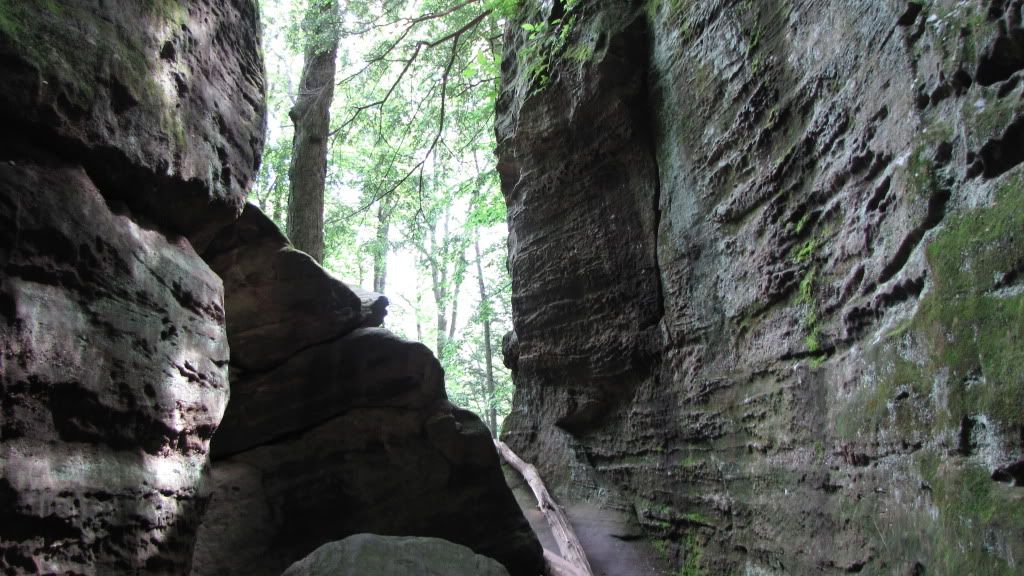 I also set the camera up on a rock and got a picture of us with a nice fall in the background.
Granted the fall isn't magnificent, but it was beautiful and the trees block it from view in that picture. lol But here is a picture of it by its self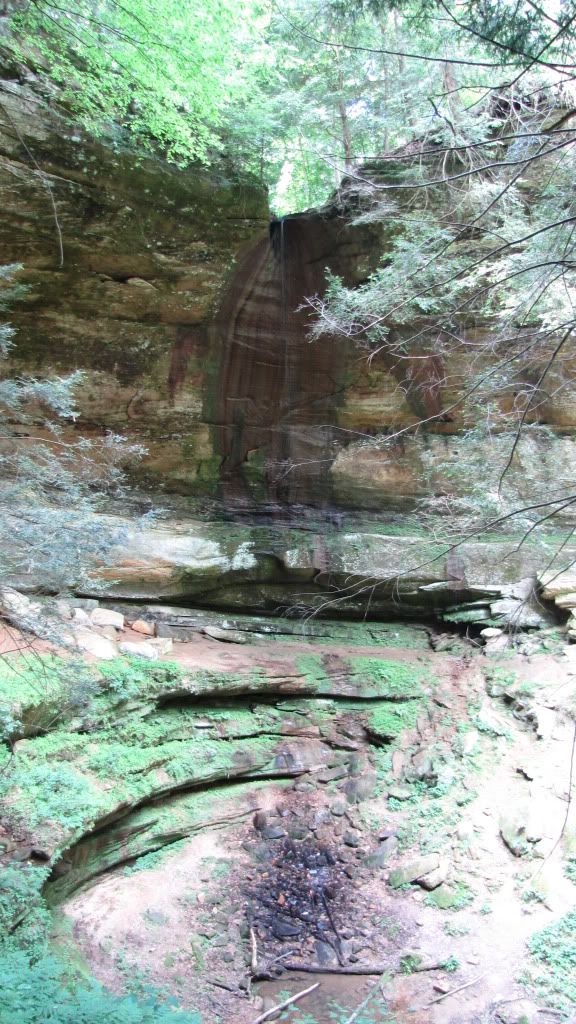 After we got done huffing and puffing while we climb our way back out of the cliffs we saddled up and headed to Old Man's Cave. We took the short path to get back to the falls. Couldn't believe all the kids already out of school and in the park.
We stopped and watched a couple sliding down some rocks into a couple deep water pools. Good thing its posted no wading or swimming!
I was surprised how much the water levels have dropped in just over a month since the last time I was here. Took a nice picture of the falls.
We now have two of our three tours complete that I had planned. Only one left is Cedar Falls. A couple miles later and we're there. We walked down the hill and across a bridge, where I snapped a pic of a fish last time I was here. Its amazing what a little time can do. There were fish every where. I get a great pic of one of them.
We could hear quite a ruckus as we got closer to the falls. Kids and young adults everywhere in the pool below the falls. We did find one guy that didn't mind.
I found a way to get a picture without getting any of the people.
All the touring done now its time for lunch. Yes you know.... Obetty's!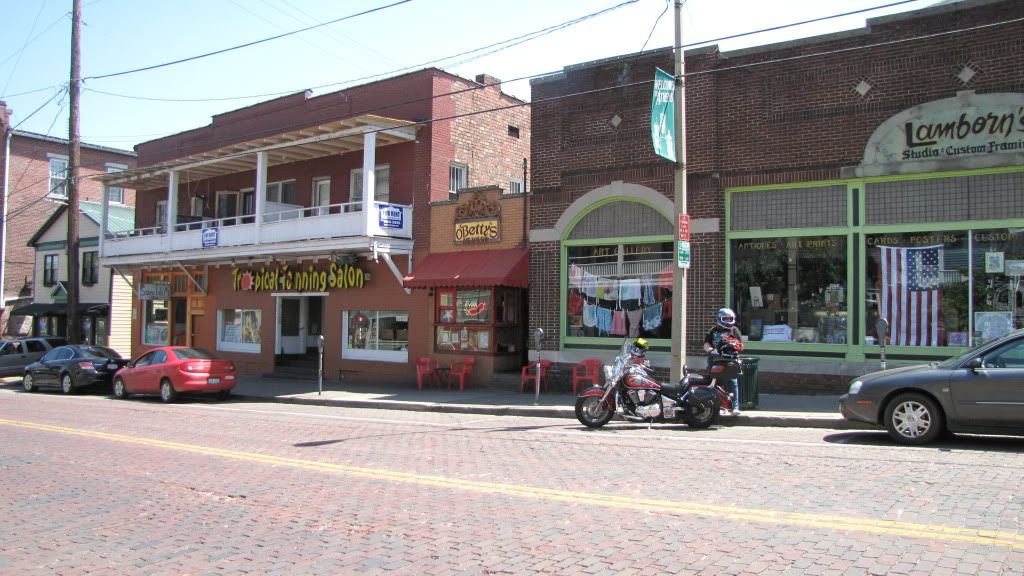 Jenni Lynn really like Obetty's. Guess we'll have to do that place again. Anyway now its time to head to her Dad's place on the Ohio river. One wrong turn later we're on 33 south heading to 124. No much after getting on 124 the river comes into view and so do the coal barges.
Waking up to the sun rising over the Ohio river the next morning was beautiful!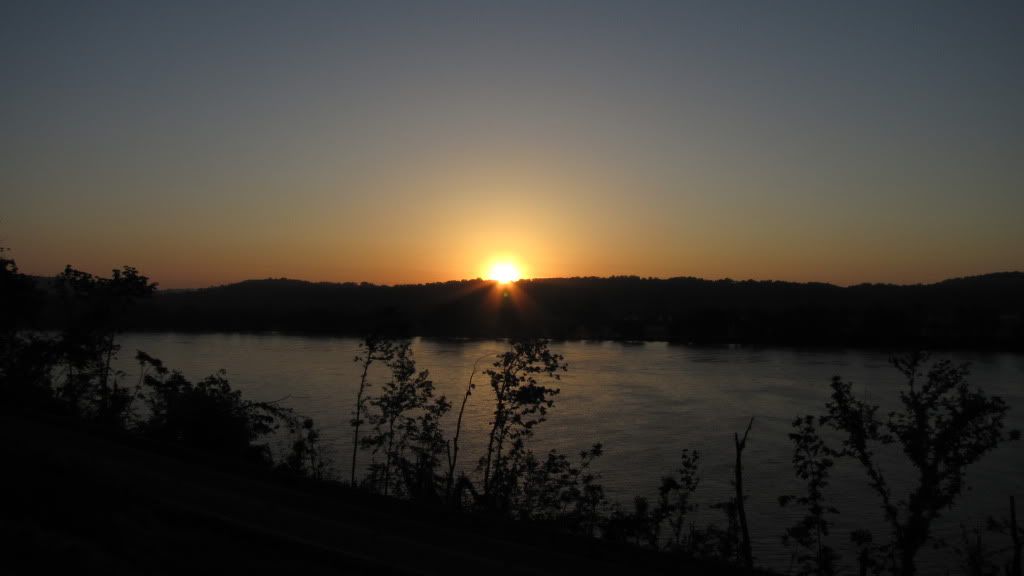 Looking down at the fog just hovering over the locks.
We helped her Dad with some chores around the house and it was time to head home. We headed toward Athens on 681. Its a beautiful twisty scenic road! It could be in a little better shape though.
Found a farmer with a good sense of humor along the way.
One of the many beautiful views along 681.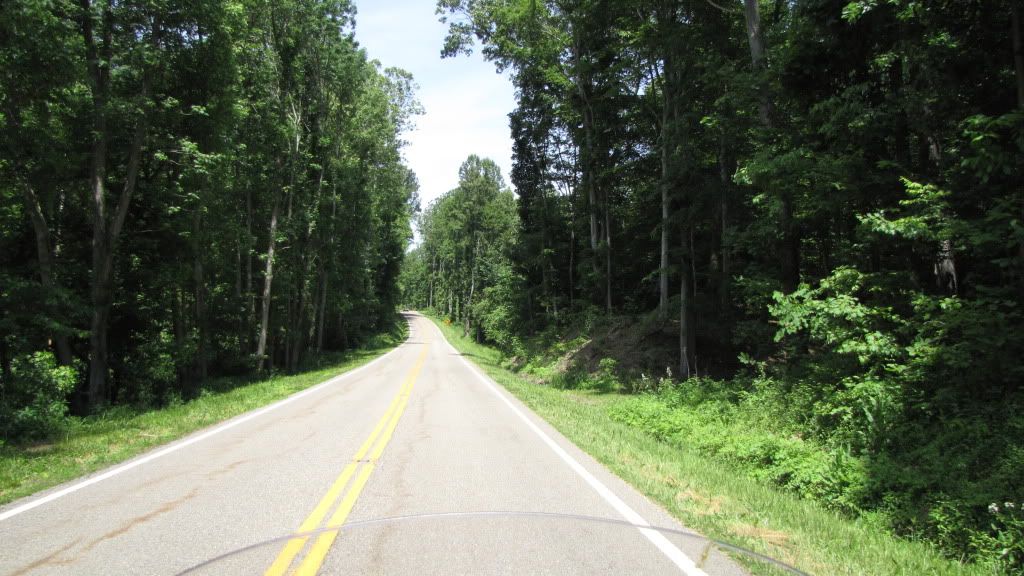 Finding ourselves back in Athens and at Obetty's for lunch again. Just who would you expect to see? That's right, Mike and one of his friends ride up for lunch. That just made a good day that much better! It was good to see him and chat again. After all its been since last Monday. lol
My wonderful girlfriend bought me an Obetty's T shirt while we were there too! Lunch ate it was time to come home. Just stayed on the big roads to make some time. Only had one lovey gentlemen try to kill us so all and all good trip! Can't wait until we can do it again some day!