We were able to finally get out as a group this year. It even brought a few new faces to the group. First off my girlfriend Jenni Lynn got to go! That was cool. She was supposed to have to work, but they didn't need her so that was a win win for both of us. Second I got my boss Scott and his wife Jane to come with us on their new Kawasaki Voyager.
We got moving a little before 6am. The weather was just gorgeous. Warm, but yet still cool. We took the hour ride, after getting gas, to Wooster to meet up with Scott and Jane. We got to watch a beautiful sun rise accented by the smells of fresh cut hay. Is there a better smell or way to get going in the morning?
Here is a shot of the sun coming up as we head into Strasburg.
We met up a little late. I was running a bit behind. Seems I didn't think about having to gas up before we left town. Oh well it was only five minutes.
After some mandatory chat we saddled up and headed for Strasburg to meet Alan and Elaine.
We pulled into the Marathon right at 7. How's that for punctual?
I made introductions for everyone, we chatted a bit and headed south to Caldwell to meet Mike.
While cruising down 77S we were being met with a very beautiful day. I was watching the sun get higher in the sky and saw how it was making a cloud glow. So I pointed my camera in that direction and this is the result!
The best picture I took all day!!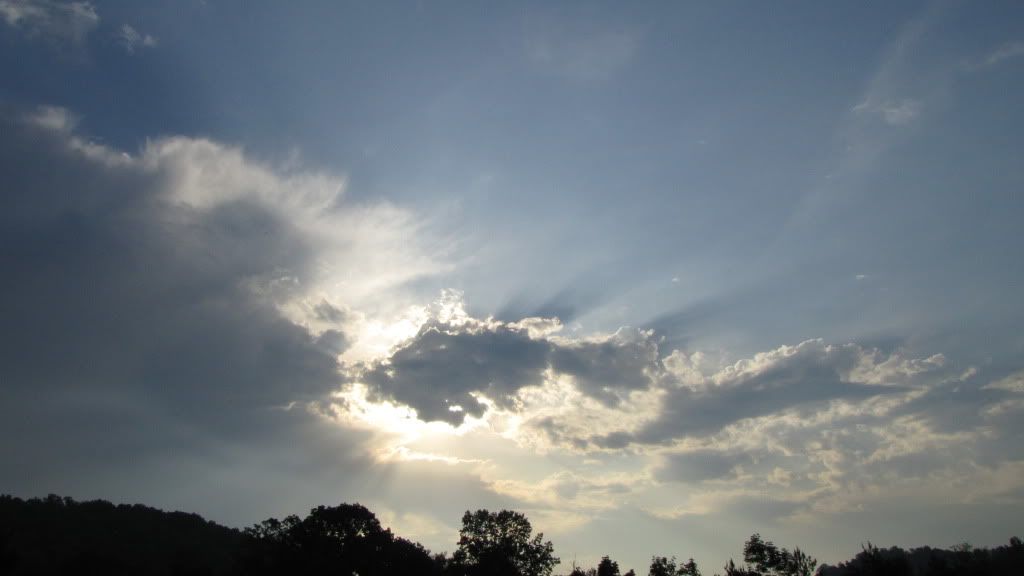 I am happy to say we had an uneventful ride and met up with Mike at the McDonalds.
We all went inside and had a quick breakfast and talked about the past, present, and future. We also decided on a start to the ride. We are going to follow 26 to Marietta. A road I have never traveled.
26 turned out to be a great treat! It was a beautiful ride with plenty of twist and turns. We found a few covered bridges along the way too. Here's one of them.
Out of Marietta we got on 550 to Athens and Obetty's Redhots! I know, by now you're sick of hearing about that place. Well in this edition it was close! Its never closed! So we went around the corner at the
Union Street Diner.
It was hot as, well you know, inside. The side we sat on had a broken air conditioner. We'd been out in the 90's all day it wasn't that bad. Got a great vanilla milkshake while I was there!
Now were are heading out toward Old Man's Cave to enjoy those twisties! We took a couple side routes I had never been on before. We left Athens on 56 and quickly turned off onto 691. We followed that a bit and went to Nelsonville we stopped for another break and for gas. While there we had a cool looking visitor!
After the stop we turned off on 278 to get back on 56. Great roads!
Back on 56 we followed it until we got to 374 and tooled around until we got to Old Man's Cave. We stopped for a much needed water break and cool down. We all also decided how we were going to all head home from here.
We stayed as a group until 374 found its way back to 33. From here we all split up and headed home. Scott, Jane, Jenni and I all took the same way home.
We were gone about 13 hours and made it 440 miles. Hot, tired, a little burned but a great great day!