Fall is here and the days are getting shorter and the nights are getting colder. I only have about six weeks of riding left this season. I am soooo close to hitting 50K on the bike so I had to get out today. It was a cool start at 39 degrees but it warmed up nicely into the 70's. By the time I got to Columbus it had gained 20 degrees.
Thought I would start the day with a nice picture of my street. Its always so pretty this time of year.
Hopped on the interstate at first and made some time until I got to St Rt 374. Always a great and scenic road!
One of the sharper corners on 374. I remember it taking me by surprise the first time I rode through here a few years ago. Didn't realize it was as sharp as it is.
Back on the road I pulled off at Cantwell Cliffs where we usually stop for a mandatory bull session when I am down here with the group. This is the first time I had been down here alone. So I decided to take a little tour of the area.
This is called Fat Woman Squeeze. LOL Honest that is what the chart said.
I couldn't believe how croweded the area was today. A lot of leaf viewers out. Then when I got to the parking lot for Old Man's Cave. The place was packed. Some kind of field trip going on. Damn those brats were loud. Luckily though they were hanging out at the top and those of us at the bottom had the place to ourselves!
The Falls, or lack there of!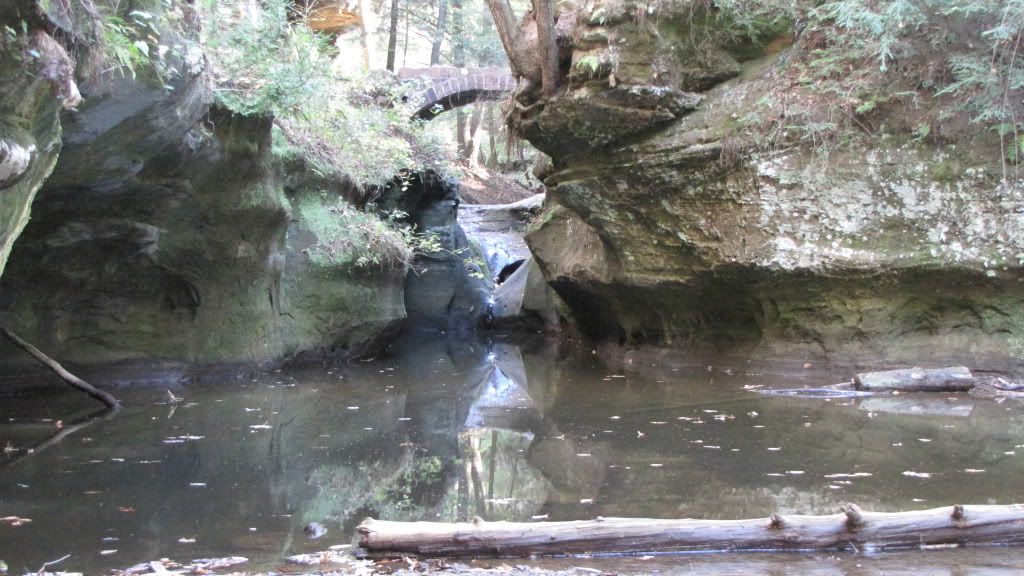 Now time to get on the road and head to Obetty's Redhots! A mandatory trip if you're going to be in the area! But one more stop first.
After a good lunch with plenty of college eye candy walking by it was time to start heading home. I decided to take 550 to 377 to 78 and make a quick stop at the Big Muskie Bucket. From there I took 83 to 284 toward Zanesville. This USED TO BE a great route. The scenery was awesome but it someones bright mind they decided to tar and chip the road and it was still pretty loose! Not a fun ride.
A pic off 284
All in all it was another great ride! Put over 360 miles on the bike and no one tried to kill me so how can you complain?