Its been a while since I have been sick. Today though I was feeling quite ill. I think I have a case of two wheel fever! So I took the day off work to seek a cure.
Met up with Alan at our usual spot in Strasburg at 6am and we headed south for Marietta where we fueled the bikes and our bellies. We got on I77 heading to Parkersburg WV to Route 50 East.
50 going to Clarksburg is a pretty road, but not much to talk about. Its 4 lane and not challenging. We did have a couple deer in the median making us nervous for a bit. We also had a State Trooper pass us as we were doing 10 over the speed limit. So I thought I would wave at him as he passed me in thanks for leaving us alone. He waved back and was out of sight in no time.
Saw this cool place as we were cruising along.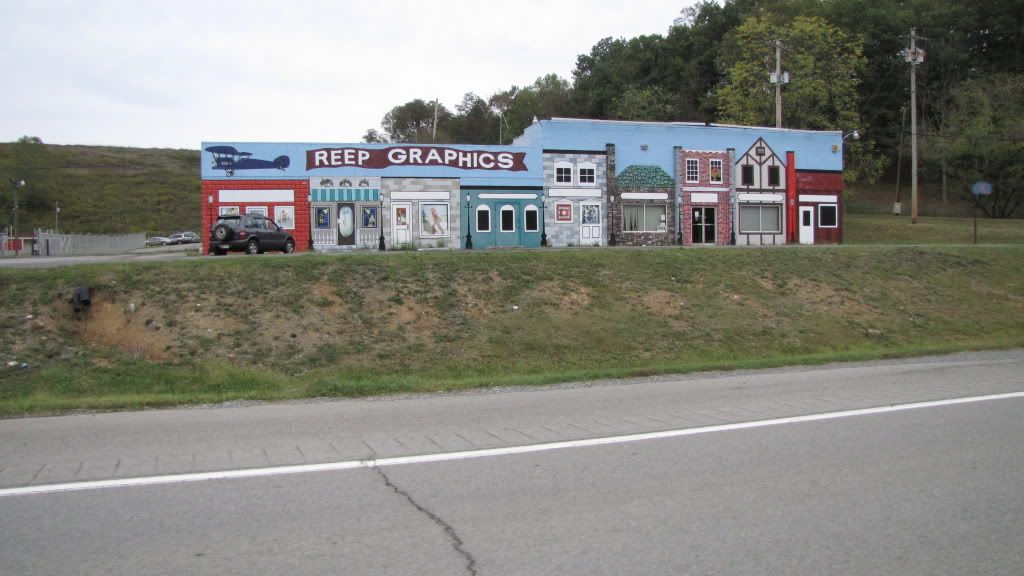 We stopped in Clarksburg for gas and a break. At this point in the day I had already racked up 230 miles. I figured today would be another 600 miler. We continued east on 50 and were getting to the good spots where it came down to 2 lanes and some great curves. Then it happened. I was in a tight right hander and as I am hitting apex I hear this grinding sound. I drug a floor board. LOL That doesn't happen often. But with these Pirelli tires and now a new monoshock on the bike its handling better than it ever has!
Cruising through the hills I see movement up ahead. Not sure at first what I see. A huge bird coming up off the road right in front of Alan. Oh my its a Turkey!!
Can't say I have ever had a turkey on the road before in all the miles I have put on. Well at least not one that had to fly to keep from getting run over. Its just left and above Alan's head. Hard to see. Blends in well.
Later on as we approach route 24 I see a sign for Blackwater Falls. I say to my self lets go there, especially if there is really some falls there. About that time Alan takes a turn on 24 and stops. I pull up beside him and he asks if I had ever been. Then I tell him what I had just said to myself. We laugh and our off for Blackwater Falls.
Here we are getting close as we enter the Monongahela National Forrest.
A few miles more and we pull into the Blackwater Falls Park. We pull up next to a trio of other bikers. Two women and a man. Nice! More women need to ride their own scoot!
Here is a glamour shot of the falls.
Back on the road and heading toward Seneca Rocks. We pass a blight on the land scape. No not the grave yard. Look beyond to the horizon. Sure they might be "clean" but the landscape really needs to be destroyed to put this ugly monsters up!
Here we are at Seneca Rocks. We took a short break and I got some much needed grub.
Now off to Spruce Knob. I didn't know about this last time I was here. The small road leading to the highest point in West Virginia was awesome! I about ground my floorboards off again. I didn't think I was leaning that much.
As we apporached the top of the mountain the rain that was forecast finally found us. It started a steady light rain. By the time we reached the top it was time to don the rain gear. Look at the only dry spot. Under our bikes.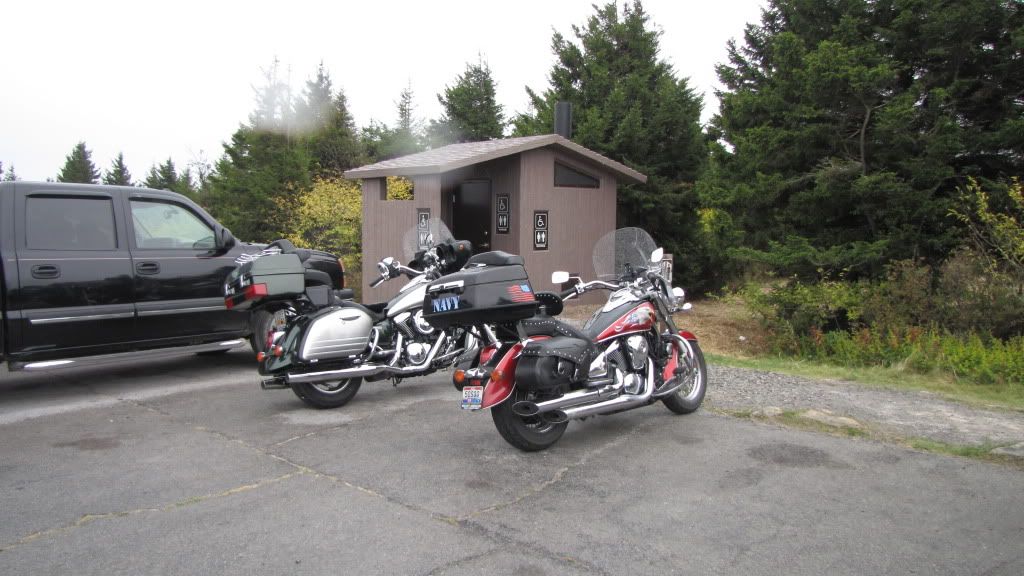 A few shots from the top of the observation tower. You can really see the low clouds.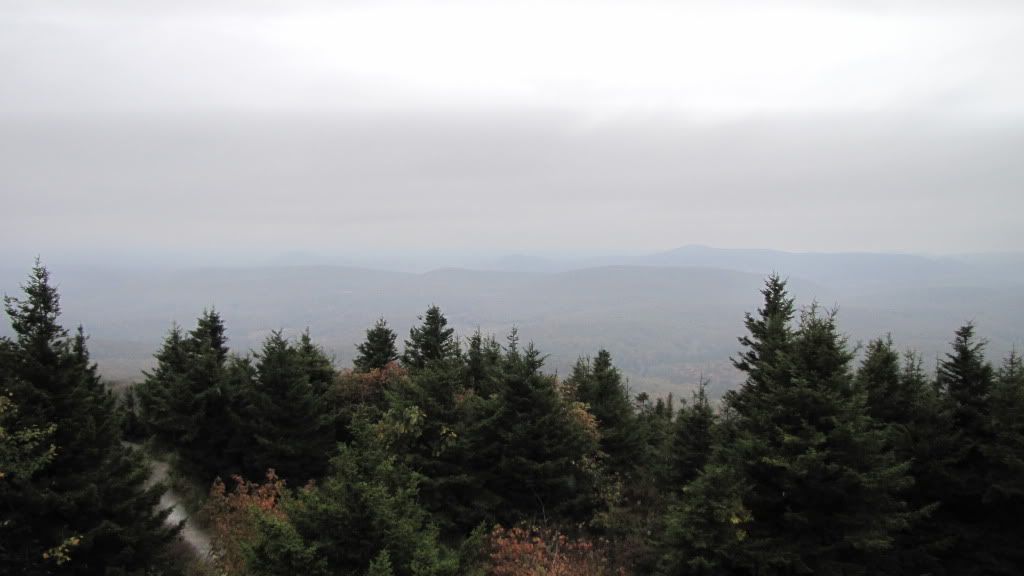 We decided it was time to take the quick way home. We had planned on riding 250 with its twists and turns, but those aren't much fun in the rain. We spend the better part of the next 4 hours in and out of a light, but steady rain. It finally cleared off about the time we got back to I77 north.
Cruising north and dry finally we stop for our last gas stop in Cambridge Ohio. I look at my trip odometer. Its sitting at 601 miles on the day. I look at Alan and laugh and say we ain't right. He laughed and agreed. I still have close to 100 miles to go to get home.
We shook hands and said until next time. I peeled off a few miles later on 250 to head home. I got home a little before 9pm and had 699.4 miles for the trip. My second longest one day ride. Only beaten by my 1000 mile Iron Butt Ride of 08. Still it was a great trip. Can't believe how well the bike handles!! Now to put my new fork springs in tomorrow.