After yesterdays ride in the rain I didn't think I would make this ride. But I was up early thanks to the fall allergies setting in already. So why not go. I broke out my spare helmet, jacket, and boots so I would have some dry cloths to wear and I headed out to the meeting point at Iron Pony.
According to the "always accurate" weather man it was supposed to be a nice day. Sure didn't look that way when I got on the road.
I managed to get there first and had to wait on Alan, Dan, and Ed. But that is ok it was starting out to be a nice day! We all went in and spent our money. I got out cheap by only buying some more cleaner.
We got back on the superslab and headed out toward Hocking Hills. We took 270 east to 33 and turned off on 374. To my surprise 374 had been paved since I was down here last in the spring. Made for a great ride.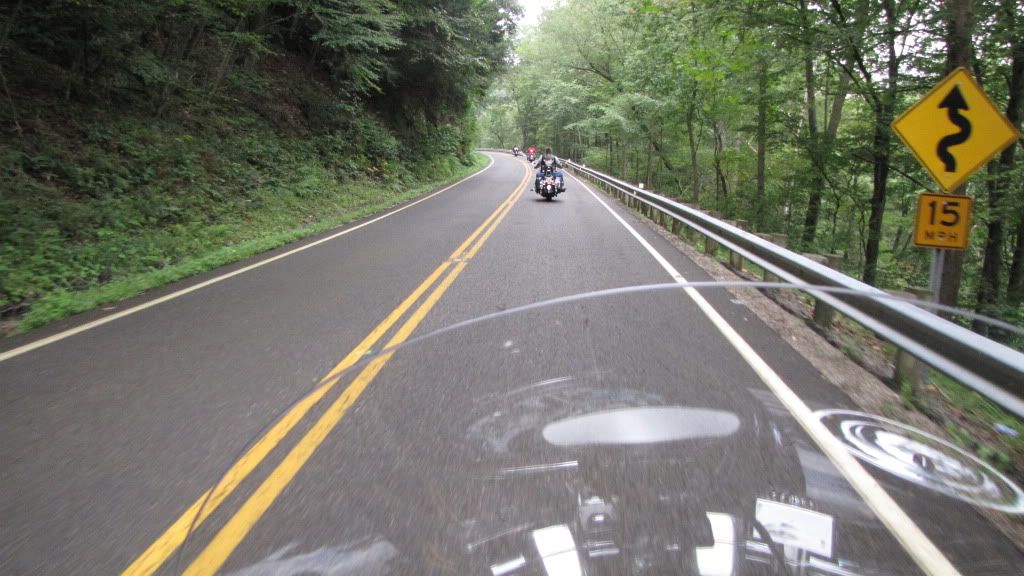 Saw some signs saying look out for bikes. I was dumb enough to think it was for us, but noooo. There was some kind of bicycle race going on. We saw tons. They also had our usual bull session spot so crammed full we just kept going.
We did stop for a bit at Old Man's cave for a little rest and talk.
As you would expect we decided to head out to Athens and Obetty's Redhots! Love that place!!
We took the faster route today and ended back on 33. We stopped for gas and if Alan hadn't told me I would have missed it. There was a tourist train going by. I did manage to get a pic of the caboose.
After another great lunch at Obettys we were all talking about another forum member that hook us on this place. Then guess who rides by. Yep. It was Mike. That was great to see him again and catch up on things.
We got on 13 north for the trip home. I was finally able to get a good shot of this mural. Wish I could remember what town it was in.
We stopped again just before we reached I70. From here Dan and Ed split off and heading west toward home and Alan and I headed east.
Alan and I decided to head up 93 north. I went with him because I had never ridden that road.
We reach the exit just to find out the road is closed. So back on the interstate to follow the detour. It took us to 83 north which I have ridden many times. But the two roads do cross eventually.
Finally on 93 and some new road and scenery for me we had a great time. The scenery was awesome and the road plenty twisty. One of the twists though about got me. I am just riding along really enjoying the turns when I hear the sound of gravel under my tires and the bike shook. Luckily I was able to just keep going and nothing bad happened. There was a pucker mark in my seat thought. LOL
We reached 250 and this is where Alan and I went our separate ways toward home. I got home with 400 miles on the odometer for 700 miles total over the last 2 days. Not a bad weekend if I do say so my self.
But my riding days with the guys are probably over for the year. Now I am back on my weekend shift and will be working every weekend.