I decided last night that it was time to head home. A week on the road is plenty and after spending all that money on a new tube it was the same as a whole days expenses on the road.
I got the kid up about 7am to her grumpy moaning of not wanting to get up. We got our gear packed and were heading out for breakfast.
I didn't even make it to the end of the road and we had our first mishap. The bungee holding my riding pants down somehow came undone and they fell off. If it had to happen good time for it. So I stopped and put it back on.
Now I am getting worried that the bad luck of the last 2 days isn't over yet. Back on the road we pull into the Double T Diner. Its a nice looking place but the food wasn't very good at all. I think they had it mostly premade in the back before we even got there. How else can you come out with french toast and bacon in under 5 minutes.
Breakfast eaten it was time to get moving. We are just gonna ride the interstate home. Its supposed to be a hot one so the air moving by will help. We leave the diner fuel up and are gone!
I just hit the go home button on the GPS instead of planning a way home. We got on I 97 north toward Baltimore. The road was empty and in great shape. If you have to ride the interstate it doesn't get any better. Then we got off on 100 to 70 west.
Cruising down the road my Daughter yells Dad stop. I ask why she said your pants came off again. So I hit the brakes and pull off. I have not idea how this bungee keeps coming off. Luckily traffic is still light so no one runs them or me over.
I get them back and strap them down a different way this time and we were good the rest of the trip. Funny thing is I strapped them down the way I had been doing it all week.
70 West will take me all the way to Columbus Ohio if I stay on it, but that would be out of the way so I thought we would head to Breezewood Pa and take the 76 west into Ohio.
When we got to the area where 70 and 68 come together the GPS had me turn on 68 West instead of going into Breezewood like I thought. Cool. Get to go a way I have never been before so that was fine with me.
I 68 was very scenic so it was a great choice by the GPS. Glad we went this way.
I love the look of these old towns!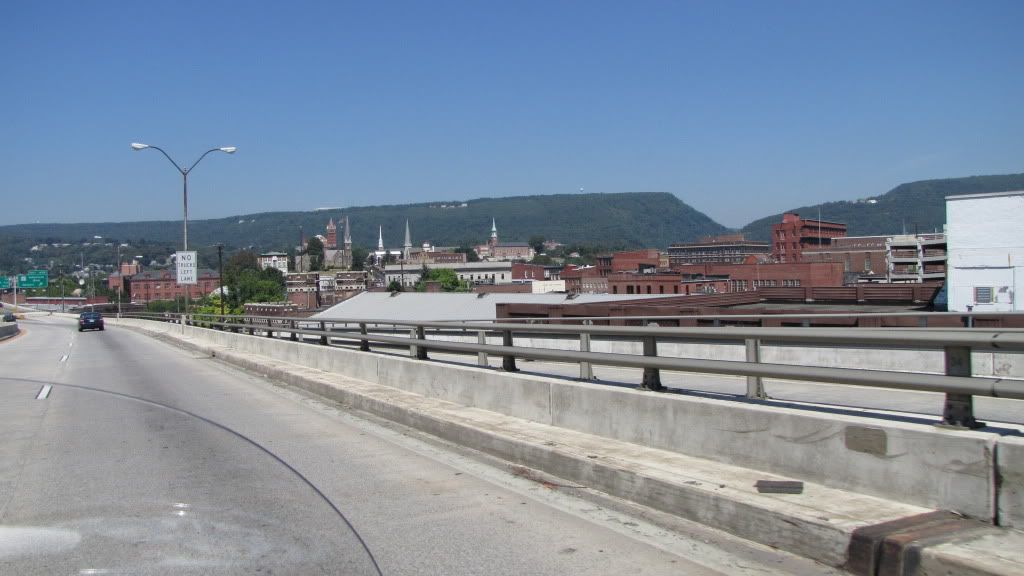 Funny thing about this part of Maryland. They had electronic signs asking us American Citizens to spy on each other. These signs were saying report suspicious activity with an 800 number and keep a look out for terrorists. All I could think of was the Gestapo! Here comes the police state! This country is heading down hill fast, but I will keep the rest of my views out of this.
Cruising down the road my Daughter says over the intercom ouch I am getting stung. I said still or did. She said still so on the brakes and pull off the road. I told her to get her jacket off and shake it out.
Didn't see anything come out of the jacket but it looks like a sweat bee got her on her arm. Then I asked did you have your sleeve cuffs closed? She said no and I said this is how the bee got up your arm.
We had just had this discussion when we were leaving from breakfast. I told her to cinch her sleeves down on her wrists so nothing could get up them as we rode. Maybe this was Mother Nature trying to teach my Daughter Dad isn't as dumb as she thinks. LOL
Anyway no real harm done back on the road. We follow I 68 until it ends on I79 and we turn north. At this point I have the GPS's route figured out and I am really surprised on the time we have been making coming this way. Seems like its out of the way but not really.
I 79 wasn't in very good shape at all compared to I 70 and I 68 we have spent the day on. But we didn't need to be on it very long. We got back on 70 West for the run to the Ohio border.
Coming into Ohio there was a nice speed trap set up for the holiday travelers. I saw 3 State Patrol at one location. The one on the bridge getting speeds and the other 2 had customers at the time. I had kept my speed down all week so a ticket was the last thing I was worried about.
After an hour of 70 west we turned north on 77 near Cambridge Ohio where we stopped for gas for the last time. I told the kid, next stop home! We were both tired and ready to be home. Even though she told me earlier in the day she would like to be gone another day or two. I think I created a monster. LOL Which is a good thing!
We stayed on 77 until we reached Strasburg and got on 250 west. 250 all but gets me to my drive way. But the traffic is always bad between Strasburg and Wooster so I really despise coming this way. Today was no exception.
Savannah was getting really tired so just outside of Wooster, with about 30 miles left before we get home, is a great little ice cream stand. I pull off and we get a couple of cones. This brought her back to life!
Ice Cream eaten we are back on the road and I take a short cut on a tar and chip road that takes me to 302. This road is fun. Its in good shape with some nice twists to it and it dead ends into my town of Savannah.
We pull in the drive way a little before 4:30 in the after noon. So not counting the stop for ice cream we made it in about 8 hours from Annapolis MD to home in Savannah Ohio. Not bad!
We did 12 states if you count Ohio. 2297.8 miles in 7 days. What an incredible trip it was. I couldn't have asked for better behaviour out of my kid.
Hopefully next month when I change shifts again at work we can head to my Brothers place in Missouri.
I thought we would end the trip on a big bang so we went to Ashland to watch the fire works! What an incredible trip we had!!!! The first of many I hope.