Finally got a break in work and the weather to take a short trip with my daughter to go see some more sights. Our first destination is the first oil well.
The weather was just perfect for us. Sunny and very little wind! Stayed fairly cool all day too, which was another plus.
We pulled out about 8am and took the fast route to get to southern Ohio. We ran out 250 to I77 south. The traffic stayed light for us making for a more enjoyable ride on the interstate.
We got off the interstate on StRte 78 east for the short trip to Caldwell. We just skirted the edge of town to the junction of 78 and 564 where the site is for the first oil well. If you're not looking hard you'll miss it. What makes it stand out is the old caboose there.
Turns out the oil was an unwanted by product at first. The well was actually for salt production.
While we were there I saw this small flock of birds. Had no idea what they are.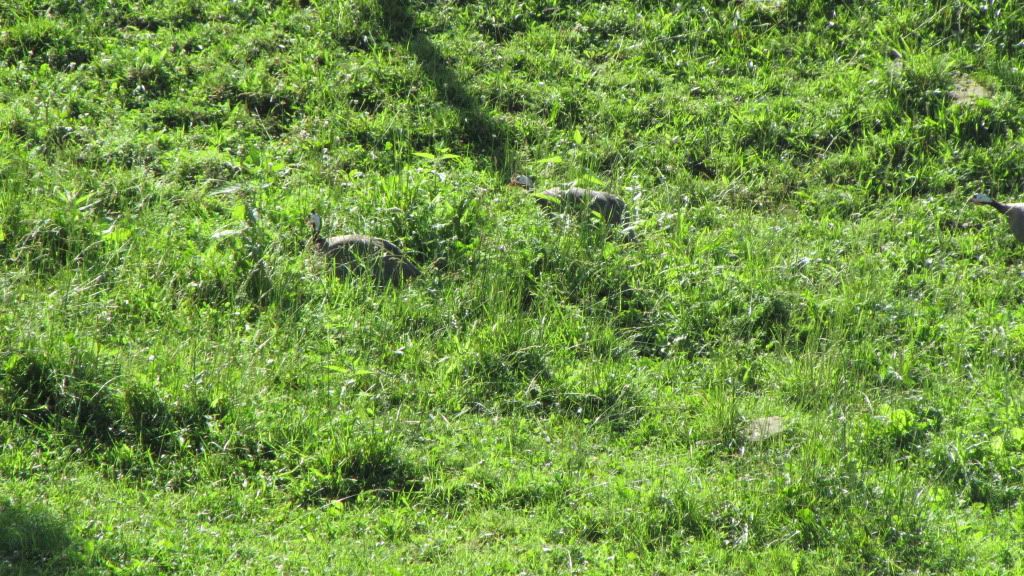 Turns out they are an African bird called Guinea Hens. I guess they are great for eating ticks.
Now we are off to the crash site of the USS Shenandoah a lighter than air ship. Seems she was fighting a storm back in the early 20's and lost the battle.
We back tracked into Caldwell to pick up 821 North. This could be a great road if they would ever repave it. A lot of nice scenery but the road isn't in very good shape to enjoy the twists.
The crash site is in Ava Ohio. Not even a spec on the map. We were disappointed when we got there. Just a tiny sign below the speed limit sign pointing to a field that says crash site 1 and 2. Just a historical marker letting you know something happened here.
We got back on 821 heading south not sure where I was going next. These two places were the main focus of the trip today. As we approached Hwy 340 west I decided to turn. Might as well see where this goes.
The road was in good shape and nice scenery. Not much in the way of twists to deal with. We took this road into Cumberland. Ok now where do we go?
I decided to turn on 83 North to start the trek home. Since I have to be at work tomorrow I don't want to be out too late. 83 is a good road with plenty to see and a fair amount of twisties to do too.
Coming into New Concord the fuel gage was saying we need to stop. Since there happens to be a gas station there at the intersection of 83 and 20 we fuel up.
After getting the tank full and some stretching we need lunch. Knowing there isn't much of anything if I stay on 83 we take 20 west toward Zanesville.
We no sooner get on 20 and out of town and there is this really cool looking bridge just off to the north. So I go up to the next driveway and turn out so we can check it out.
Its part of the original road that was built back in the 1800's. Built in the shape of an S because for them at the time it was easier than trying to build one at an angle across the stream.
A little history.
A lady there walking her dog told us that there was a family of ducks on the far side of the bridge. We walked down the foot path there and I managed to get a good picture of them. You can see momma was keeping an eye on me.
Back on 20 I get on I70 west. I deceded to make some time so we can do lunch. We get off in Zanesville on US 60 a road I am more than familiar with. Right at the exit is Bob Evans so we pull in for lunch.
After lunch we stay on 60 but I decide to get off 60 and go to the Dillon Dam. We get on 146 to make our way to the Dam and Dillon State Park.
I haven't been to the Dam itself in a few years. It used to be all gravel. To my surprise it was all fresh smooth pavement now!
Here is a picture of the dam.
After milling around for a while and checking out some more of the sights we get back on 146 to 586. I have never taken these roads north. Only ever brought them south before so it will be a nice change of pace.
We follow 586 into Martinsburg and get on 62 until we get to Danville, where we lived for about a year. I take us past the house we used to live in becasue I know Savannah won't remember it.
We get on 205 just outside Danville to pick up rte 3 into Loundonville. Where we just have to stop for ice cream. We both pig out on a large cone.
Then we get on an old tar and chip road called Honey Creek to Hayesville. From there we get on 60 again and follow it the rest of the way home.
We got home about 4 in the afternoon. We did about 270 miles. Anohter great trip and day spent with the Kid.
Be looking for our epic adventure coming up in just a couple weeks. We are going to be riding all of New England for at least a week!!!