Today we are heading to a place called Panama Rocks. I will steal one of their headlines describing the park.
"The Park consists of 12 acres of an Erupted Paleozoic Seashore originating over 300 million years ago. It is a Ridge of Quartz Conglomerate Rock, which was carved and shaped by a glacier, and is all set amid an ancient forest."
http://www.panamarocks.com/
All that really says is the place was cool! Literally in some places. I'll explain that later.
I tried to get a few people together to go with Savannah and I. Alan was the only one that could make it. So it was just a 2 bike group ride. Since I GPS'ed the place I got to lead most of the day. Which is something I normally don't do but it's ok I got to use the cruise control. LOL
We couldn't have asked for a much better weather day. It was completely clear. Barely a wisp of a cloud here and there. The winds were calm. The only thing to complain about was it did get pretty hot later in the evening!
Savannah and I got on the bike and headed out at 7am to meet Alan near his house 45 minutes later. We were 2 minutes late. LOL That's ok. Its not like any of us had meetings to attend or appointments to keep.
I love these kinds of sights! Of course what smells better in the early morning than fresh cut hay? Nothing!!
We head out on 76 east to pick up St Rt 5. The route is pretty straight and unchallenging but that wasn't the idea I had in mind when I picked it. I was looking to enjoy the scenery more that carve the canyons. Besides you can't really play on the corners when you have a passenger. We were riding and that was what is was all about.
One of the sights along the way was this Military Base. The fencing stretched on for miles. Its one huge base! I had to look it up. Its the Ravenna Army Ammunition Plant.
Then we run across a National Landmark, sort of. He must be doing a good business to afford something like this!
Traffic most of the day was a nightmare. Every once in while we would see some. LOL The roads were empty, it was hard to believe.
We stayed on 5 until it came to 88. We followed 88 into Pennsylvania. At the border it changed names to 398. It was in great shape with tons of beautiful scenery to look at while cruising down the road.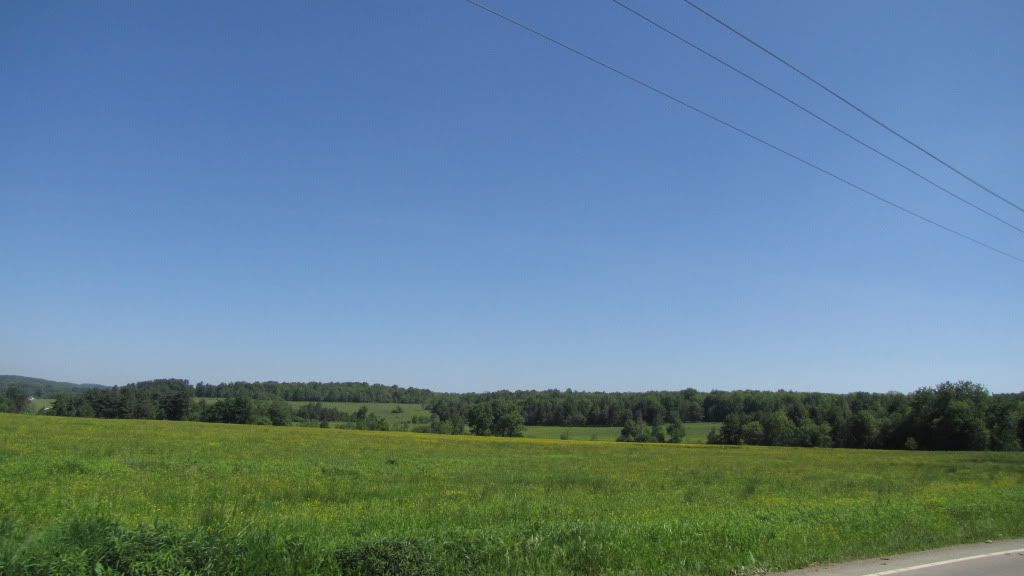 We cut off on a side chip and seal road. This was the part of the trip I was worried about, but it turned out to be a nice route. The road was nice and scenery was great. We followed this up to Jamestown Pa.
We stopped in Jamestown to top off the gas tanks, not that we really needed to, and to take a rest break for us.
Savannah was complaining of her butt getting sore already and Alan to the rescue. He just happened to have an extra gel pad in his trunk. So he let her use it the rest of the day. Problem solved no more sore butt. But I think that is going to cost me some more money. LOL Thanks buddy!! LOL Oh well I have been thinking hard of getting one myself. Because after 300 miles your butt does feel it.
On the road again we picked up 58 in Jamestown to 322 to start a more northerly track. We stayed on 322 to Meadville. This is where the GPS and me got a little confused. We had several roads all coming together at once. Between the GPS not updating fast enough and me not remembering which road we were picking up I got a little off track. Oh well hit the recalculate button and we get ourselves on 77 like we are supposed to be.
I was watching the GPS for the New York border so we could stop and Alan could get his helmet on since they are a Helmet Law state. I stopped along side the road because I thought the border was just around the corner. Turns out what I thought was the state line approaching on the GPS was just a road with no name. LOL Oh well.
We were coming into Correy Pa when we spotted this mural. I just had to stop for a picture!! This is at the intersection of 77 and 426.
While in Correy we stopped for lunch and had another rider on a long trek himself stop and talk to us for a while. We killed a good half hour or more just talking. But we needed to get back on the road.
We are on 426 heading north and the New York border rapidly approaching. Its a new state for me and the kid both. Neither of us has ever ridden here! Its always good when we can hit a new state.
Once into New York the road really turned crappy for a while. We turned onto 474 for our final leg into Panama Rocks.
When you pay your admission fees you have to sign a liability wavier. They left everything natural so there isn't anything to keep you from falling off the rocks if you aren't careful. Even after you sign off they warn you one more time. Some people have no fear. LOL
It was awesome in the park. The rock formations are really cool. Both figuratively and literally. There were some areas where the air had to be at least 10 degrees cooler coming through some of the rock formations. We all stood there at times just enjoying the cool air.
Here are a few pictures of the rock formations.
They had a little snack bar there too. When we saw the sign for ice cream we just had to go inside! It was a cool old building. I asked if it used to be a barn and she told me it was a dance hall.
She told us that this place used to be a major hotel back at the turn of the 20th century. Had its own stage coach stop and was more popular than near by Jamestown.
We then headed south on route 958 to 27. No sense going home the same way we got here! We were going to follow it to 277 and then to Oil City but we hit a road closure in Pleasantville. So we stayed on 27 to Titusville and then 8 south into Oil City. I have to admit it was a great detour. The scenery was great!
There were a lot of reminders through out the day that Pennsylvania was once an oil boom state. Here is one from Titusville.
Thankfully there was a bypass around Oil City so we took it. It was a 4 lane road that hugged the edge of the cliffs. We were getting blown off the road by people flying by us as we were the only ones doing the speed limit. Funny thing is there was huge sign saying "target enforcement area". Guess that was just for the out of towners that didn't know any better.
Saw this old tunnel while we were on the bypass. I would love to know the story behind it.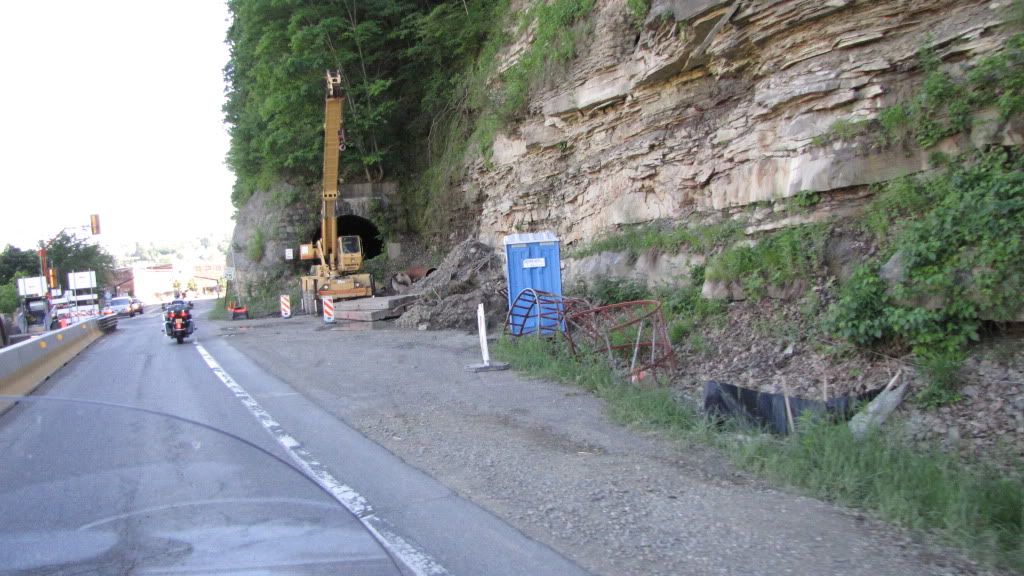 Now on 62 heading west. We were planning on following it all the way to Youngstown Ohio. The road was in good shape and enjoyable. We spotted this building off in the distance. Sure looked grand. I wish I knew what it was.
It was getting late in the day and we came up on the intersection of 62 and I79. We stopped and decided to go ahead and hit the slab for the rest of the ride home.
We stopped for gas in Akron and Savannah had to finally give up the nice seat cushion for the last hour home. When we got home she said her butt hurt again. So I can see that gel pad is in our future.
We did 436 miles on the day and it was awesome! Other than getting hot it was a perfect day. No one tried to kill us for once and we had some great company.
We are just shy of 6000 miles for the year now. She gets a bath and oil change next!