A long time ago in a galaxy far far away.... Ok this may not be star wars but some of the tales we tell are out there.
So today's destination was a meeting place in Zanesville. I talked the guys into meeting an hour earlier at 10am. Hey its rough having to get up at 3am for work. So I wake up a little after 5 not being able to get back to sleep so I get up and start getting ready for the ride. I am to meet Alan in Ashland at 8am. I have a nice set of roads planned to take to Zanesville he probably hasn't ridden yet.
Can you imagine that. A road Alan hasn't ridden? Most who know the man knows he's a traveling atlas. LOL You want the best roads to ride he's the one you call.
I hop on the message board http://www.kawasakimotorcycle.org/forum/ to see if there have been any changes I need to know and a quick chat with Alan.
Checking the weather report for the day and I see there is a real slight early chance for rain. But I felt safe. Steve wasn't coming with us. The last 2 times I have ridden with Steve there has been a low chance of rain. I got wet both times. LOL
Its coming up on 7am. Belly growling and Bob Evans is calling me. So I suit up and head out an hour early.
Breakfast eaten and its only 7:30 and I am already at the gas station. Filled the tank and bored so why not take a quick shot of the bike? Anyways I promised you all a pic of my trunk when I got it back and installed.
And here comes "the man" LOL.
After fuel for Alan and a little bull we head out down route 60 to Hayesville. Here we make a left on 179. A nice country road with a few twisties for fun! We come back out on 60 just west of Nashville. At the stop Alan was pleased with my choice of roads. Yeah beats the interstate.
Left turn again and we're on 60 for about a mile then we are in Nashville. No not the home of country music but the home of a couple dozen residents. Here in Nashville we turn down 514 to DANville. Its a scenic road that could use a good repaving.
Now entering the town of Danville where the men are men and the sheep are nervous. I actually lived there for a year. When I refused to buy velcro gloves they kicked me out. LOL
Now a little boring part of road. We are on 62 heading to Martinsburg and go figure, Alan has been here before. LOL
Does it sound like I am picking on Alan? Yeah well maybe a little.
Once in Martinsburg we turn left, hmmm seems to be a lot of lefts in this story. We take 586 thru Farm and Amish country. This will take us down to 146 right into the Dillon State Park.
Making ANOTHER left, lol, I pull off the road before we get to 146 and ask if Alan wants to take a detour. We have plenty of time. So we head off into the State Park. I meant to ride to the dam but turned on the wrong road. Still found some nice scenery and time for some more glamour shots!
Alan's ride.
Me again.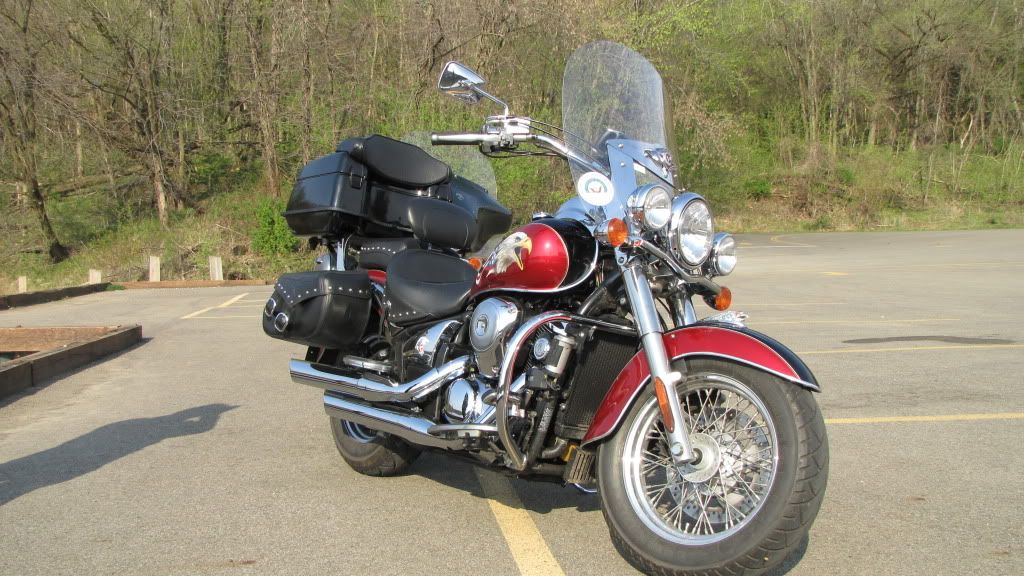 We finally make it to our meeting spot with Dan, Ed, and John. We win. They aren't here yet. Funny thing is most head across the street from the Marathon we stopped at and head to Shell for the premium grade of gas.
Here's our little group. Poor Ed is missing from the photo op.
Here is Dan posing with his bike trying to talk Alan into taking his picture. He's saying "your camera does too work when your bike's not moving." Alan is thinking I don't know about that. I think it only works while I am riding. LOL
We are heading out to stop by the Big Muskie Bucket. I know you have already seen that in a previous post. But who cares. We're riding!
We head out of Zanesville on 146. Its a nice winding road with lots of good scenery. Before long we are making a RIGHT turn on 284 south. Also known as Big Muskie Drive. It takes you to close to the bucket site. 284 skirts The Winds, a wild life area from Ohio Power.
I rode this area late last year when the leaves were gone. I gotta make it down that way this fall. It will be incredible!
Making another right onto 78 we are at the bucket in less than a mile. Pulling into the anything but bike friendly gravel drive we arrive at Big Muskie Bucket.
Look familiar?
Ok lets eat! Now the really good part of the trip. We are heading to Obetty's Redhot in Athens. A great little hot dog stand.
We continue on 78 west to Glouster. There we head south on 13. Coming through Trimble. I snapped this pic in the center of town.
With the war monument and the design of the building I thought it was quite picturesque!
Now in Athens its time for lunch! A fellow forum member hook us on this little hot dog stand. This is my second time there. Its a must stop if you're in the area. I'll be making at least one more trip with the kid this year!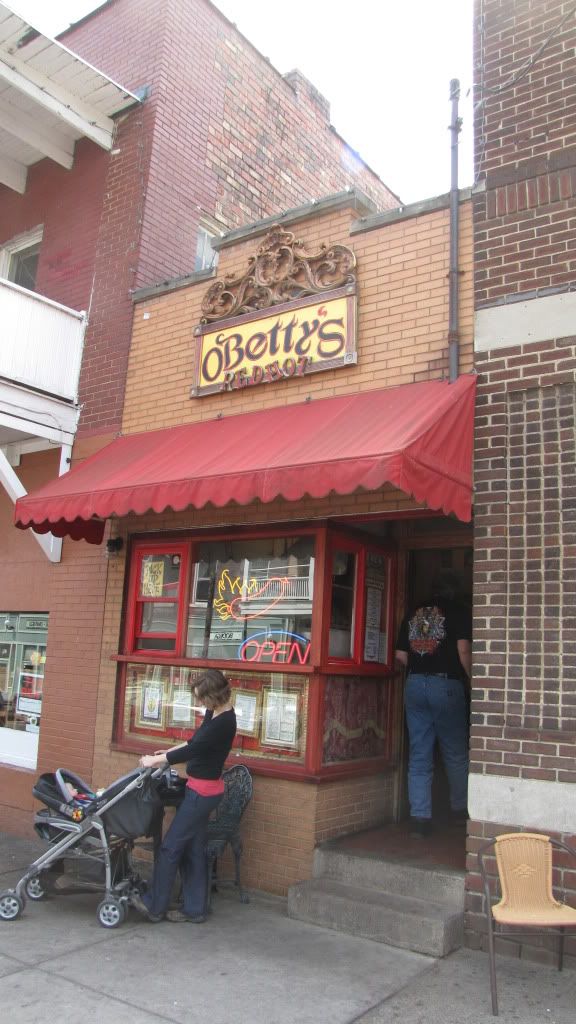 Between the good eats, good stories, and great eye candy it was a good time! After all it is a College town.
We decide to head out on 550 east to pick up the famed 555 or triple nickel. It was a good ride. Nice scenery and some nice twists to it. But soon we reach the holy grail of Ohio roads!
Turning north on 555 Alan hits the after burners. He left Dan, me, Ed, and John like we were sitting still. We all rode our ride and after a few miles we all grouped back up in Chesterhill.
We got spread out again as we all took the turns at our comfort levels. We find a nice pull off and I get the opportunity to snap a couple more pics.
Here is Ed just as he crests the hill.
Here is John on the same hill.
More stories told we all saddled back up and stayed together for the ride north back to Zanesville. We fueled up and all parted ways for our homes.
After a hundered miles of boring interstate I made it home. On the day I did about 380 miles. Another great ride with a great group!!