Here we go again the boys are getting together to burn some fossil fuel and terrorize the neighbor hoods. Today was a cold one. It was in the mid
30's when I pulled out to meet Alan in Ashland.
We are meeting as a group at the Iron Pony today. We have one new guy we haven't ridden with before coming up from West Virginia to ride with us. So that will be cool. Plus last time there I am the only one that didn't buy anything and did I ever catch hell for it from the others. LOL I will today. If nothing else I need another can of Plexus. I am getting low. Might get some new gloves if I can find a good deal.
The day started off pretty chilly! I put my rain boots on to help block some of the wind and I cranked the grip heaters all the way up. Made for a nice toasty ride into Ashland. Once I got to the gas station I was greeted by this.
Alan showed up early so we started out ahead of schedule to meet up at 10am. I picked a route to stay off the interstates again. We headed out 60 to Loudonville. We got to Loudonville and turned down 3 South. I warned Alan I quit coming this way to work because its deer central. Especially in the Mohican State Forrest. So we are cruising along and I look to the left and am greeted with this site!
Unfortunately you can't see them that well due to lighting conditions but there were nine of them running towards the woods. Thankfully they didn't come toward the road.
Not too long after this I come up on a Fox squirrel sitting in the middle of the road. I point it out to Alan and I think I am going to hit it. But he runs to the other lane away from me. I go by him so close I could have grabbed him I think. I watch him in my mirror. He heads straight for Alan. Ran right under his bike. Nomad 1. Squirrel squished. LOL
The rest of the trip to Mt Vernon went without incident. We continued on 3 out of town and followed in on the long boring flat sections into Columbus.
We got to the Iron Pony about 20 minutes early. Just to find Dan and John already there waiting on us. The place wasn't open yet so we had to hang outside and tell stories. We are expecting Jay from West Virginia to be meeting us here today. But when the store opened at 10 he hadn't made it yet. So inside we go!
Jay, well really John we come to find out later, shows up and finds us in the store. So it was good to meet another forum member. I am sure we made their payroll today. 1 helmet and 2 pair of riding pants were the high ticket purchases by the group. I bought some Honda polish and wheel bearings for the front wheel.
Here we are getting geared up to leave the Pony.
Now we are off to ride the Hocking Hills area again. We head out and go down 33 to 374. Along the way we get near the Airport. I got this shot.
Enjoying the twisties of 374 we have another member of wildlife to deal with. We had a Turkey crossing. Can you see her?
Shortly there after we pull off in our usual spot for a little bull session. Its hard to believe in just 3 weeks how much greener things have become!
We head back out continuing our trip toward Old Man's Cave. I was surprised how busy the place was as we rode past. It was still pretty cool out, but the sun was shining. We stayed on 374 until it dead ends into 56. So we stop to figure out where to next. There was a woman there selling purses. So of course Dan and I at the same time asked Alan if he stopped here to buy himself a new purse to go with the new helmet. LOL
We decide to head back to Athens for lunch at, wait for it..... Obetty's Redhot. I love that place!
Since I have it saved in the GPS at a favorite I take the lead. We head east on 56 for the 23 mile ride to Obetty's. 56 is a good road with nice scenery and a few good twists to it.
After lunch its 3pm already. Where do these days go? They just fly by!! We all gear up and decide to part ways here and start heading home. Jay is fairly close to his house in West Virginia at this point so he'll be the first home. Here we are gearing up for our rides home.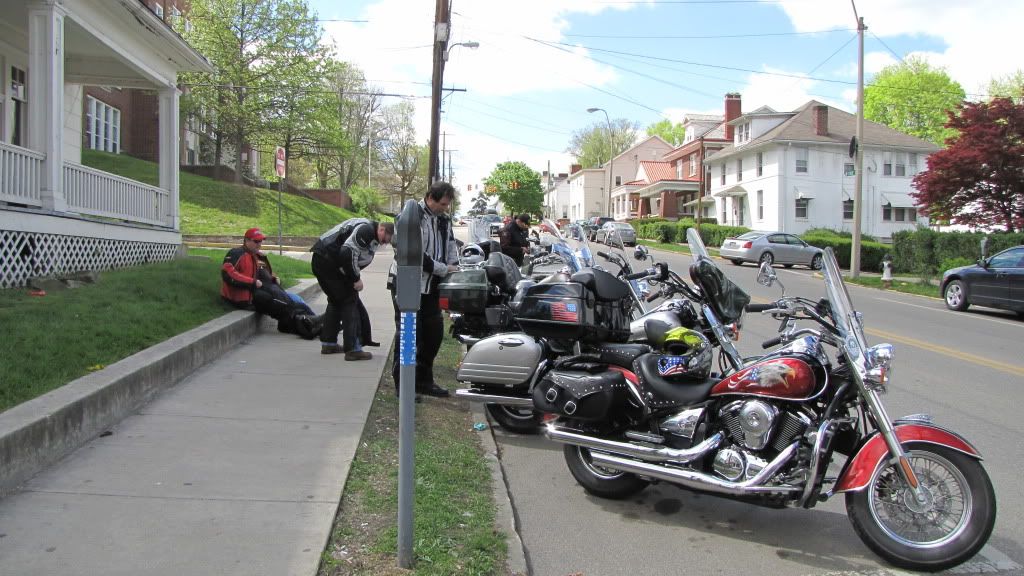 Alan and I decide to run 83 most of the way home. I bring up the Big Muskie site on the GPS, since we have to go right by it to get to 83, to help us get there. It takes us out on 550 and then off onto 377.
What a great surprise 377 was. It was in good shape without a straight stretch of road I think. Other than the fact it was a well worn in tar and chip road it was awesome.
I hate tar and chip roads. I never feel completely stable on them in a corner. They should be illegal! But I still had fun playing on the corners, well until we got behind grandma. LOL
377 brought us back out on 78 just a few miles short of Big Muskie. We cruise on up through and turn off on 83 north. 83 is in great shape all the was up to Millersburg! Plenty of great scenery and twists to keep any biker happy! Coming into Coshocton we cross some tracks and see some Engines sitting there.
I am a train buff so I can't resist a picture.
We pull off for gas in Millersburg. This is where Alan and I go our seperate ways to head home. I peel off onto 39 into Nashville then take the twisties (179) back to Hayeville. Then I get on 60 for the rest of the ride back to Savannah.
I did 360 miles on the day. Stayed fairly warm and completely dry. No rain this time!!
We are planning a West Virginia run now in 2 weeks!! Can't wait!