Well we were lucky enough to have good weather for another group ride. My Daughter Savannah and I were to ride to Akron to meet up with Alan and his boy! Then we were going on to meet up with the group. The weather forecast was for partly cloudy skies with just a minuscule chance of rain, but the wind was supposed to really blow later in the day. Yuck I hate wind.
She and I geared up about 8:15 to meet up with Alan. It was already in the low sixty's heading for the 80's. The sky was slightly over cast, which I happen to love for bike riding! Since we are the gear wearing type of riders it keeps you cooler and more comfortable.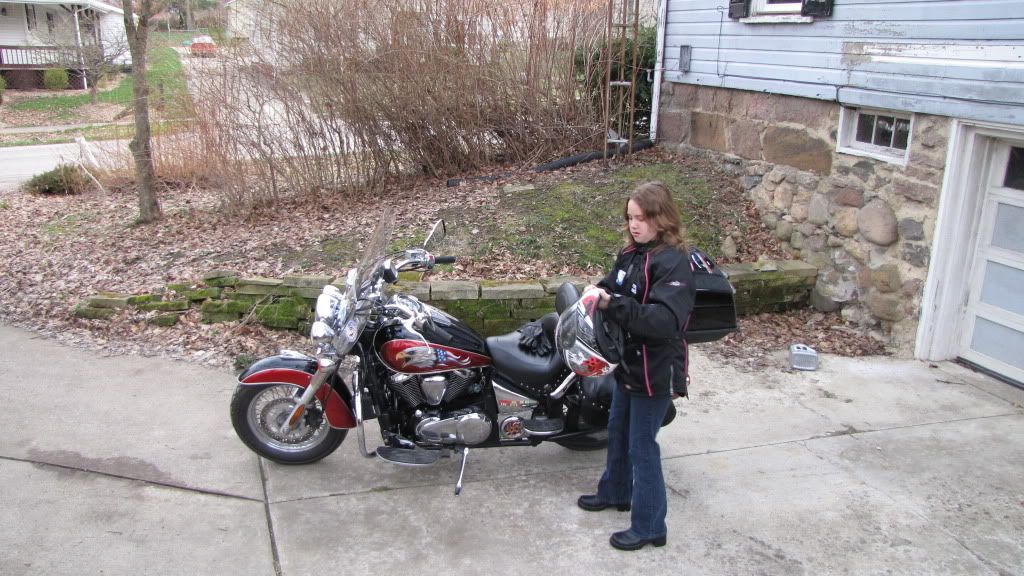 We took off up 250 to CR1275 to 224 to get gas at the interchange of I71 and I76. Then we took I76 on to Wooster Rd to meet up with Alan and his boy Dakota. Once there I bummed some Allen wrenches to readjust my handle bars because I set them too high. Trying to find a more comfortable position. This setting didn't work. So I lowered them back to where I had them before.
Had to snap a picture of Alan and Dakota riding together!
Back on I76 we continued east until 76 and 224 split and we stayed on 224 to our meeting place at 224 and 44 at a Sunoco station. Along the way we passed one of the goodyear blimp hangars. Those things are huge. I hear they generate their own weather at times and sometimes it rains inside. LOL
Then a short while later we saw this church off in the distance.
Why is it that churches seem to be some of the neatest looking buildings?
We finally made it to our meeting spot. There were a lot of bikes there. I thought we were going to have a huge group. Here it turns out another group were meeting here too. It was the Sons of God if I remember correctly. So we took the time to shoot the breeze with them.
Didn't manage to get everyone in this shot. There were still a couple riders missing, but its most of our group.
We had 7 bikes total with 11 riders since 4 of us had passengers.
We headed out on 44 south. We had decided we were going to Lisbon for lunch. Some little hole in the wall diner. Those seem to be the best.
We followed 44 until we came to 172 in East Canton. Took that west into Lisbon. This road I was real familiar with since this is the way I used to go to my brothers house until he moved to Missouri.
Coming into Lisbon there were some cool sights. This was a cool looking church in Lisbon on StRt 45.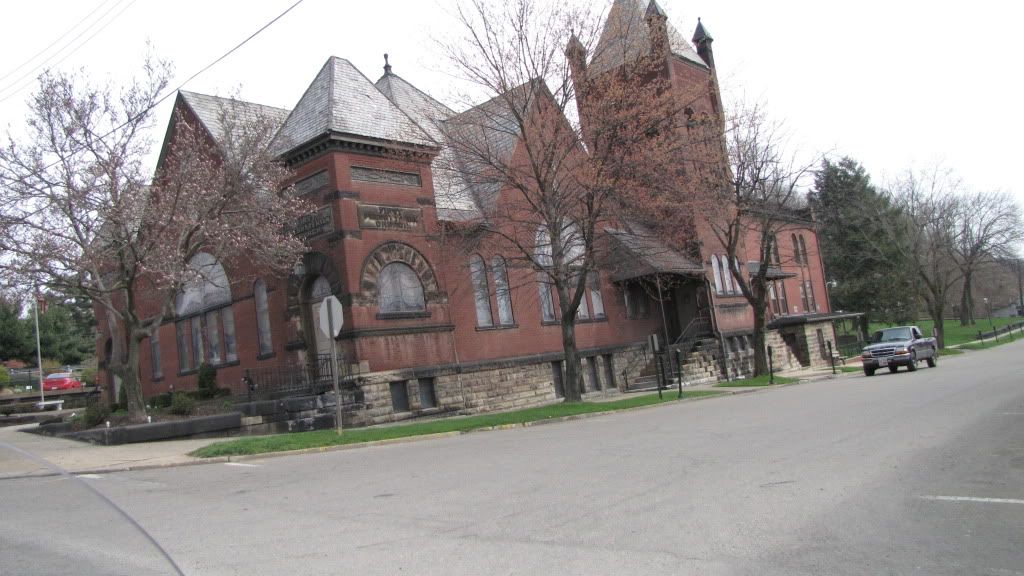 We stopped at Taste of Country. It was a good little place. For some reason they put us in the back away from the general crowed. LOL Well truth be told it was the only place they could get all 11 of us together.
Here we are all gathered in the parking lot.
Lunch had and stories told we hit the road again. We headed out of town on 164. Passing this old clock tower. I love these old clock towers. Its amazing how many old towns have these in Ohio.
164 was a really cool road. The scenery will be outstanding once the trees are filled out. Of course fall is gonna be awesome on this road too. It had plenty of twisties to make it fun too. A few places in the road were in crappy shape, but over all it was a nice ride!
We followed 164 to 212 to 250 to head to Tappan Lake. The wind at this point in the day was getting pretty bad. There were times that it was making it hard to ride a semi straight line.
After some rest and more mandatory bull we headed back out to get ice cream. Who doesn't like ice cream? So we headed down 250 south and turned off on this tiny tar and chip road called Deersville Ridge road. We turned off in the tiny forgotten town of Deersville onto Mallarnee Rd or Cr21 if you prefer.
Here is a shot of us crossing Tappan Lake.
We got to the ice cream stand just to find out it doesn't open for another 3 days. Bummer. So we just turned on 800 and headed to Dennison for fuel and more bull. LOL
Once fueled up in Dennison and some more good stories told we all started our trip home. The wind now was really blowing! We went our seperate ways at this point. Going up 800/250 to New Philadelphia the wind tried and almost succeeded in blowing us off the road.
Getting off the big 4 lane and onto 250 heading home it didn't get any better. Had to keep the speeds down to be a little more stable.
Coming out of Wooster it looked like rain ahead, but I thought no its just dust. Then the rain drops started hitting the windshield. So me and the kid stopped on the side of the road and donned our rain gear. Then what happened? Yeah the rain quit. LOL That's ok we did get sprinkled on before we made it home so it wasn't a total waste.
We finally got home about 5:30 and 280 miles later. That wind was by far the worst I have ever ridden in and am in no hurry to repeat. Other than that it was another great day of riding! Can't wait until next time!!!