Its good Friday and we are both off so a bike trip is in order! We do have a group ride planned for tomorrow too!
Today I set out with no real destination in mind. Wasn't sure if I wanted to run north and take her to Michigan or west into Indiana or east to Pa or Wv. See she has a states ridden in patch to color in like I do. So far she only has Ohio and Kentucky colored in. I thought it would be a cool way to get her a little more interested in longer day trips with me. Seems like its working!
Anyways back on topic. I decided we would just stay fairly local and make a trip south and go see Big Muskie.
Big Muskie was the largest Drag Line ever made. She was used to help uncover coal in Southeastern Ohio. In her working lifetime, the Big Muskie removed over 608,000,000 cubic yards of overburden (twice the earth moved during the construction of the Panama Canal), uncovering over 20,000,000 tons of clean coal. She cost $25 million in 1969.
But back to the trip report. We took StRt 60 south out of Ashland thru farm country to Loudonville. Once in Loudonville we turned off onto 39, its really both 39 and 60 most of the way, to go into Millersburg.
If you have a thing for anything Amish then Millersburg is the place for you. I think the name Millersburg screams Amish. Really though there is a very large Amish community in the area. If you want the REAL touristy type stuff then just continue east on 39 into Berlin. Don't pronounce it like its in Germany. Then they will know you're an out of towner. Ber is the focus of the word and the lin just kind of trails off. Just the opposite of the Capital of Germany.
Once in Millersburg we turned off onto 83 south towards Coshocton. 83 is a nice road for Motorcycles. Its in good shape with some beautiful scenery, when there's leaves, and enough twisties to make the average cruiser rider very happy.
We followed 83 for better than an hour before we neared our destination. Then 83 interstecs with 78 just east of McConnelsville. Turning west on 78 you're at the bucket in just seconds.
Its a small park but the bucket is anything but small. Here is a picture of her massive bucket.
Here is the State Historal Marker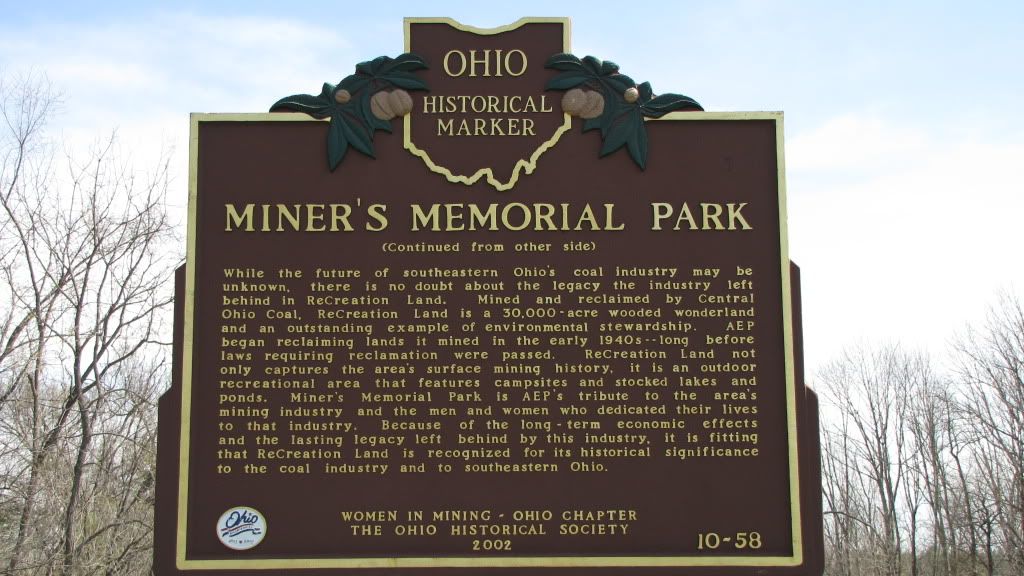 The scenery would have been awesome again had the trees been filled out. But that always givea a reason to come back right?
Its a little after 12 and we are both getting hungry so we load back up on the bike and head west on 78 towards McConnelsville to see if we can find something. We weren't really seeing much on the main drag. I saw a McDonalds and said no we aren't stopping there. She knows I hate the place. But right before it was a nice little diner so we pulled in.
It was the Old Corral. The place was old that was for sure. But it was empty and the food was good. A little pricey though. We picked a window seat and watched a ton on bikes go by. Also watched the McDonalds drive through back up into the street. What are people thinking!
The Muskingum River follows StRt 60 for our ride from McConnelsville up to Zansville. It was sure high compared to last year when I was down this way. Makes for a nice sight too while cruising. One of the many bridges that crosses the river.
We fueled up for the last time on the north side of Zanesville. We needed a short break anyways after that nice lunch. Getting hot from all the city riding and a little sleepy.
We were staying on 60 for the rest of the trip. Going thru farm country and small towns everywhere. Then as we were nearing Killbuck there is a covered bridge I have been too before and taken pictures. Well my Daughter hadn't ever seen it other than in pictures so we cut off onto this back tar and chip road. Even though I think it was made of pot holes more than anything. Its only a mile or so down the road so we can put up with the poor road conditions.
Here is a glamour shot of the bike at the bridge. Those are mandatory you know! LOL
We had been riding the better part of an hour and the break was welcome!
So pictures taken, legs and backs stretched it was time to get home. Back to 60 we go. We follow it through Killbuck and farm country back toward Loundonville where we had come through earlier in the day. Some days its a good day to be a cow I think!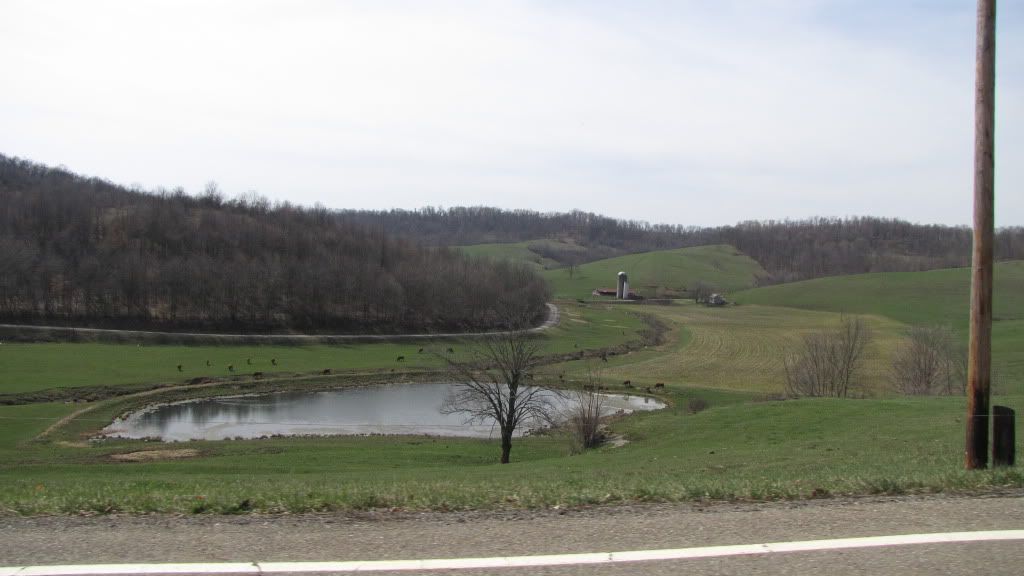 We had to stop in Ashland at the Home Depot to buy some nuts and bolts I needed for the new trunk on the bike. Then we stop by the parents house to show off the new additon then home.
We went just over 250 miles and were gone about 7 hours. Not a long trip by our standards but this early in the season it was a good long trip. LOL We were both pretty tired by the time we came home.
Now to the get the camrea batteries recharged and the bodies too. For tomorrow is my second group ride of the year and her first! Gotta love this!!!!