After a long winter break a small group of us were able to get together on Saturday and enjoy the road, sun, and great company.
The day was to start off cool. Morning temps around 40 degrees at 8:30 when Alan and I were to meet up in Ashland. But after a nice winter upgrade of heated grips it made the cool morning air much more enjoyable!
Here is the great and almighty ride guru Alan himself coming into our meeting spot. The Goasis at the interchange of 250 and I71.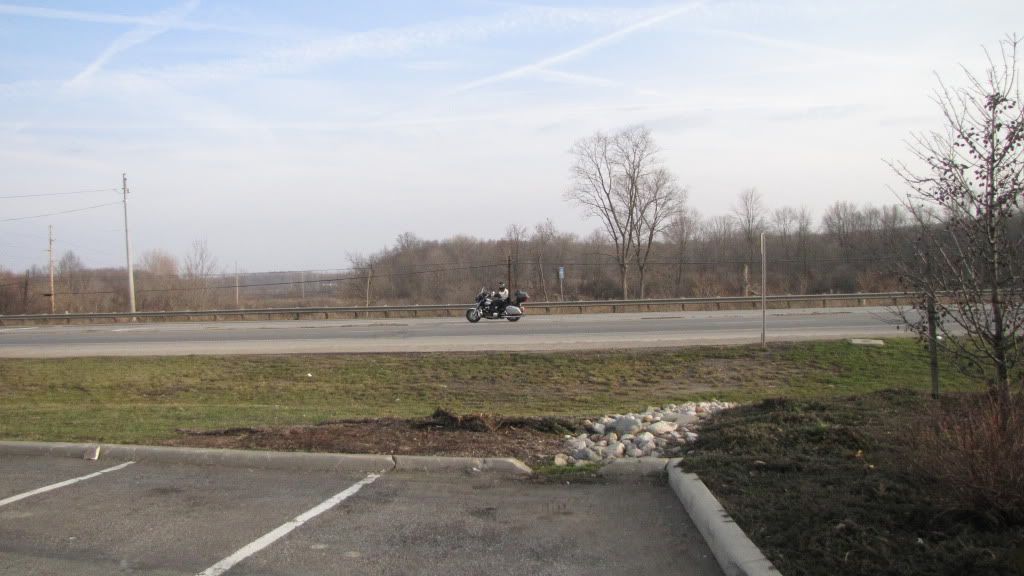 After mandatory hand shakes and fueling up it was time to hit the road to meet up with our other 2 riding partners for the day. So we take off on I71 south for about a 70 mile trip to exit 116 to the Sunoco to meet Dan and Ed.
I took the lead for a change. It gave me a chance to test out another of my winter upgrades. My electronic cruise control. I have done some short run tests to this point but not an hours worth of interstate.
Once up to speed on the interstate I set the cruise on a slow but comfortable speed of 65. Hey we have 2 hours before we are to meet Dan and Ed so why fly. LOL I was really impressed with just how well the cruise control worked. It maintained a constant 65 the whole trip. The worst error I saw was 66.
Once at our destination at the Sunoco and after fueling up Dan and Ed showed up and we were able to start our group ride.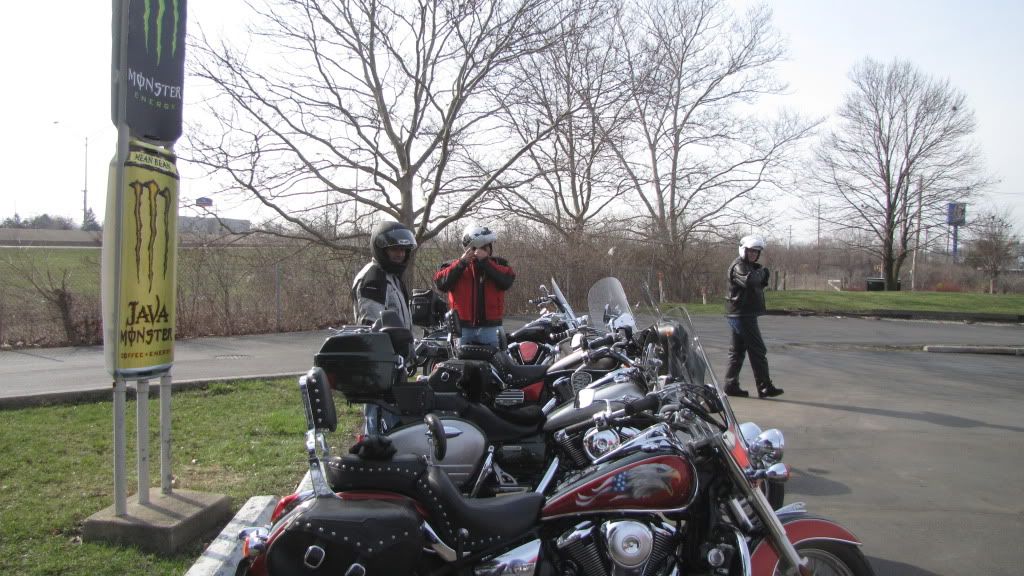 Dan and Ed wanted to visit the Iron Pony before the day was done. Since we were so close we decided to head there first.
I managed to get out of the Pony with just as much money in my pocket as I went in with. But I was the only one. LOL
After a short lunch breat at Subway we hit the road.
We decided to ride the Old Mans Cave area. We ran down 33 to Rockridge and turn off on 374. Its normally a great ride but this early in the year with the lack of greenery it was a bit drab. The roads in the area were still heavily coated with sand from our snowy winter.
374 takes you through the heart of the Hocking Hills area. For early spring the place was pretty busy with tourists.
Here is a shot of us riding along on 374. Alan in the lead followed by Dan and then myself taking the picture. Ed riding tail gunner.
We took a liesurely pace through the forrest enjoying what was truning into a beautiful and warm day. Here we stop for a mandatory bull session and to decide where we are going next.
While we were there Dan, the great friend to John that he is, had to take another video, with narration of course, and send it to John and rubbing it in while John was at work. Of course the encouragement from the rest of us probably had nothing to do with it. LOL
We road 374 until it dead ended with 56. We decided to start our trek towards home. Here is a shot of us and one of many other bikers we saw that day.
We steyed on 56 until we got to London. This is where we turned off on 42 to start heading north. I also decided to test out my new Scala Rider Q2 and try a phone call. I tell you I could hear the converstaion better than when I am holding the phone to my ear. I kept it brief and we continued down the avenue.
I can't remember what town we were in, but I thought this was an interesting looking building.
Continuing on 42 Dan and Ed peeled off on 33 to head home while Alan and I kept on 42. I took the lead again in Mt Gilead since I was more familiar with the area. I took us into Lexingon where I by passed all the stop and go on 42 and took us into Ontairo so we could pick up 30.
Once on 30 I peeled off on 545 for the last 16 miles of my journey and Alan continued on so he could pick up I71 and head home.
After the day was done I managed 330 miles. Not bad for the first group ride of the year. Sure not used to the helmet weight any more. By the end of the day my neck and shoulders were feeling it.
I left the house about 10 after 8 in the morning and got home about 20 after 7. Good day! Can't wait for the next one!!