Today is day one
of our 2012 vacation. We are going all over the south and then head northwest to Missouri to visit my brother. It should be in the neighbor hood of 4 to 5 thousand miles before we get home in two weeks.
Today we are going to stay in Bristol, VA so we can ride the snake tomorrow! One of, if not my favorite roads. We are going down 77 south to start the day out.
Traveling down 77 doesn't really leave much to talk about. Other than the fact it looks like for the third year in a row we are going to get wet. The last two years day one started out in the rain. As we leave its nice out but there is the forecast for scattered storms and showers. Anyway back on track.
We get off 77 and take 60 east. I am planning on taking 16 all the way down to Bristol. But as we are going east on 60 I keep getting rain messages from the GPS. Man I don't want rain on the way to Hawks Nest. It was pouring last time I came through here. This road is no fun in the rain!
As we come into Gauley Bridge, WV we stop at Kanawha Falls for pictures. The roads have been wet to this point. Seems I am just coming into the areas as the rain has left. The roads and mountains are steaming from the rain. As least we aren't getting wet, but there is no way to really ride if you know what I mean.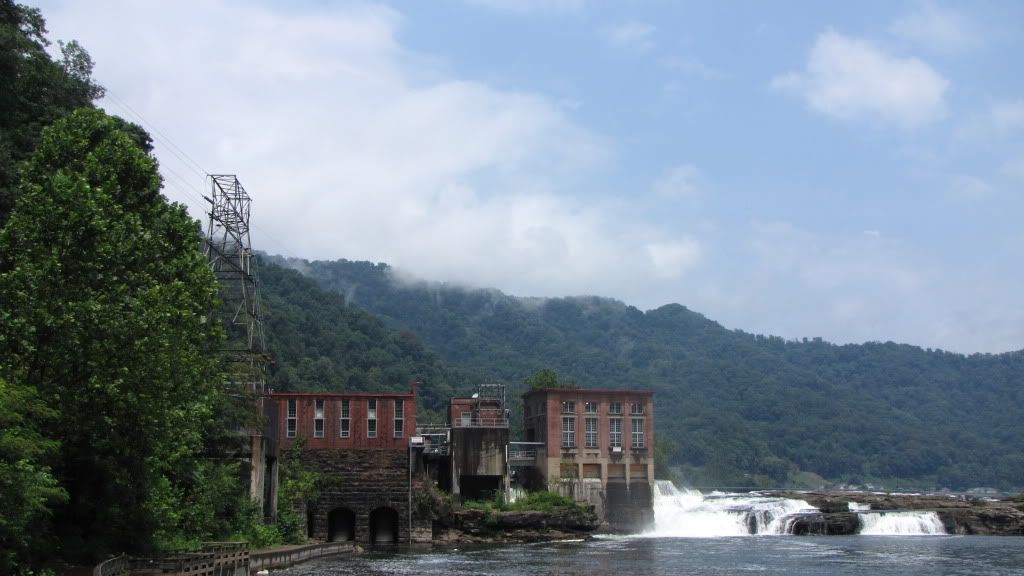 Just a mile down the road we stop at Cathedral Falls for more pictures. Watching the rain on the GPS it's moving off but the roads are too wet to play. So we take our time and just cruise until we can pull into Hawks Nest for more pictures.
The roads are drying out now! That's good because I decided on another side trip to the bottom of the New River Gorge. Savannah hasn't been down there so it will be nice to show it to her.
We take 19 south to the entrance to the New River Visitor Center and then take the tiny path to the bottom. The best part is we get behind a bus. Yes I said it a bus! It's one of the river raft charter buses. I can't believe he can make these corners on this road. But near the bottom there is one he can't make. He has to back up and turn again to make it.
We make it to the bottom and there are a bunch of rafters in the water heading toward the rapids. So we stand there on the bridge watching and taking some pictures of them. Savannah thinks they're cool I think they're nuts.
Getting ready to head up I have Savannah wait for me up on the road so I can wrestle this beast of a bike back up on the black top. As I start to make my turn onto the bridge so she can reboard next thing I know the bike is on its side and I am standing over it. I knew there would be the day I drop this thing. It's so heavy and if she starts to tip you're not going to stop it. I have no idea why or what happened. We get the bike back up and on its kick stand. I look it over and the bars did their job and protected everything. There is just a small chip in the saddle bag bar.
Up and out of the gorge we go and to find our way back to 16 south. If you have never ridden it south of Fayetteville, WV you need to. Some of the views and more importantly the twists and turns are incredible! Thanks Alan for showing me this 5 years ago!
I forget what town this was but I thought these murals were cool!
Because its staring to get late thanks to all the extra stops I didn't plan on taking when we get to Tazewell I decide to turn off 16 and take 19 down to I81. So I miss some of the great curves between Tazewell and the interstate, but oh well. The heat is already starting to take its toll.
We make it to our hotel in Bristol for the night. Now I am excited to ride the Snake again! This will be the first time with the new bike. Plus I will show Backbone Rock to Savannah too.
Day two
starts out warm and sunny. No rain in the forecast for today. That's great because the Snake would be horrible in the wet and I would have to bypass it. So off we go.
My GPS is doing stupid shit today. It's trying to take me on and off and then back onto 421. I don't think so. Typical female giving directions. Lol. I have the Aussie female voice in my GPS loaded up. She's hot. Lol
Anyway I get us to the snake and then we're off. The bike handles these turns and hills incredibly! Don't know how I did on time because it always goes by so quick. Before I know it we are coming into Shady Valley and there is a layer of fog hanging over the valley. It's really pretty!
Instead of stopping at the Shady Valley Country Store like normal I head up 133 to Backbone rock to show that to Savannah.
After walking all over Backbone rock and climbing to the top we make our way back to Shady Valley and this time we stop at the store for some water and tee shirts.
Stuff bough it's time to finish the snake! We get back on 421 and head into Mountain City and turn on 67 to 321. Both roads I have never ridden. 321 looks sweet on the map, let's hope it turns out to be sweet!
67 isn't much of a road to talk about but the scenery is nice. I turn east on 321 and it's a nice road but it's not challenging like it looked like on the map. But I am not sorry we took it.
I turn off on 194 like the good ole GPS tells me too and I soon turn around. This road is horrible. I would rather ride on a dirt road. So I get back on 321 and take it to 221. Turns out to be a great choice!
221 is in good shape with lots of good scenery and great twists and turns!! As we are making our way on 221 I stumbled on Grandfather Mountain.
I have heard of it but never been there. So it's time for another detour! An expensive detour though! 36 bucks just to get in and then another 17 to eat a couple burgers while we were there. All in all it was worth it because the place was incredible! They have many walking paths that I wish we had more time for. We took the half mile one up to the top so we could cross the tension bridge to the top of Grandfather Mountain.
Some of the sites and sounds of the place, ok just sites really.
Me and the kid.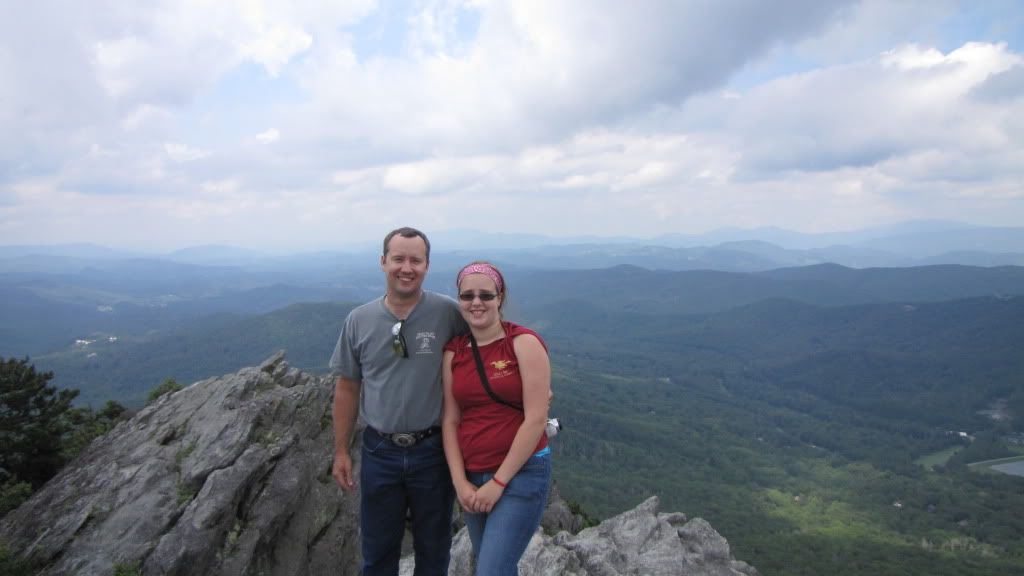 Mildred the bear.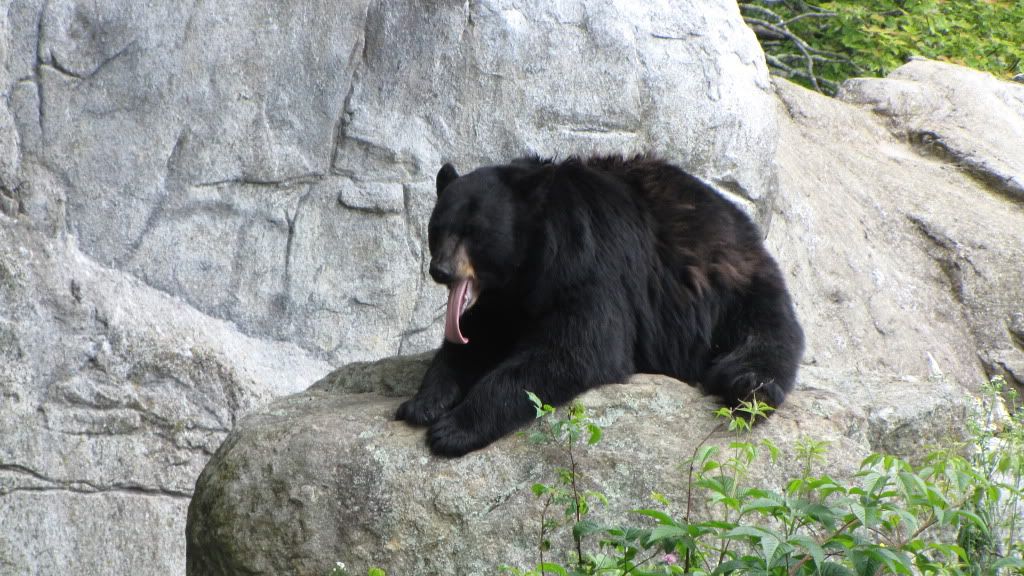 It was funny to watch Savannah panic as we crossed the bridge. She could feel the sway and rock and of course dear ole dad wasn't going to just let this go. Oh know he had to pretend it started to fall just has he walked onto it and then pick on her as she panicked more as the bridge swayed.
It wasn't over just because we got off the bridge. She was half panicky on top of all the rocks so we could get the best view. But despite all my teasing she sucked it up and made it there and back in one piece.
We spent a couple hours in the park so we needed to make up some time. We took 181 south, which is a great road too!! We got on the I40 east and stayed on the slab the rest of the day until we got to our hotel in Charleston, SC.
Day three
we are going to put a blistering 20 miles or less on the bike today. Today is a tourist day. We are going to spend the day at Patriots Point and tour the USS Yorktown and USS Laffey.
We got to the park about an hour and half early. There were some other things to see in the area and thought it would be nice to get a good parking spot. Yeah that was a good idea but looking back maybe we shouldn't have. I had no idea we were going to get killed by the worst mosquito attack ever recorded in man's history.
I don't know what kind of super powers these bugs have but superman would cower in their presence! I think we both got 2 dozens bites or more! As I type this 3 days later some of the bites are still visible and still itch like hell! We weren't the only ones under attach but we saw others having the same issues as we waited for 9am for the sites to open.
Once the placed opened at 9 we made a bee line for the Yorktown. I spent 4 and a half years of my life attached to a Carrier and for now it's the only way I can share some of my experience with my Daughter. Plus the history of this ship is one of the other reasons I wanted to see her. From fighting off the Japanese in WW2 to picking up our Astronauts she has served her country well!
Sadly though she's in need of a paint job her skin has faded badly! The static displays in the hangar bay are in great shape! They have some good aircraft, videos, pictures, and even a flight sim you can see in the hangar bay.
A TBM torpedo bomber just like what George Bush flew in WW2.
They let you go into many spaces and passage ways on board too. You can even go into one of the boiler spaces. Unfortunately you can't get all the way down into the main spaces and see the shafts that turn the screws.
Savannah checking out the brig.
Up on the flight deck there are a few static aircraft on display. Sadly they are in dire need of a paint job too. I hope they find the money to get it all done.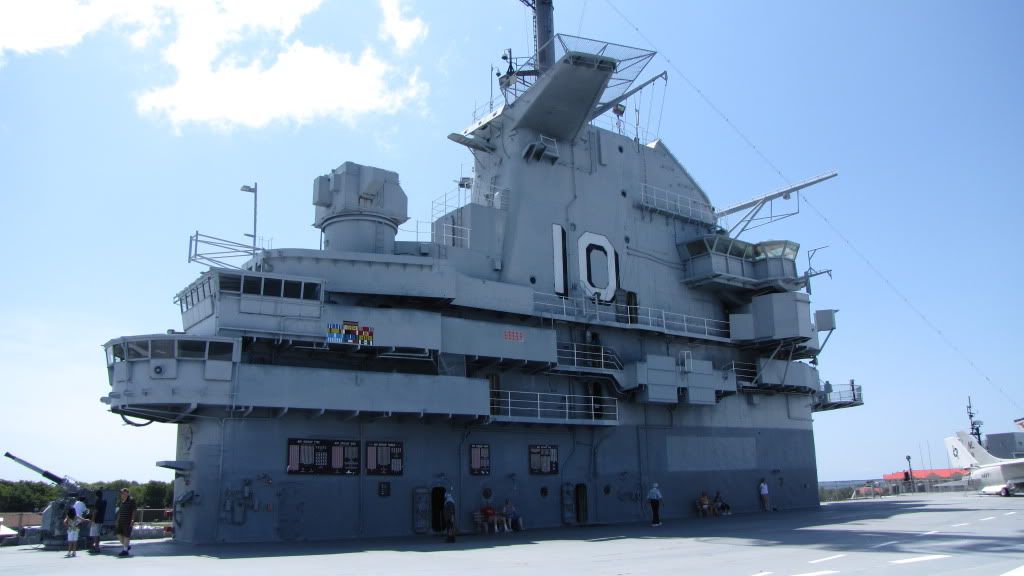 Onto the Laffey. This tour was very short and quick. They have one of the 5 inch mounts open and only one passage way through the ship and up to the bridge. Not much to see there, but it shows you how little the tin can sailor had for protection against the Japanese.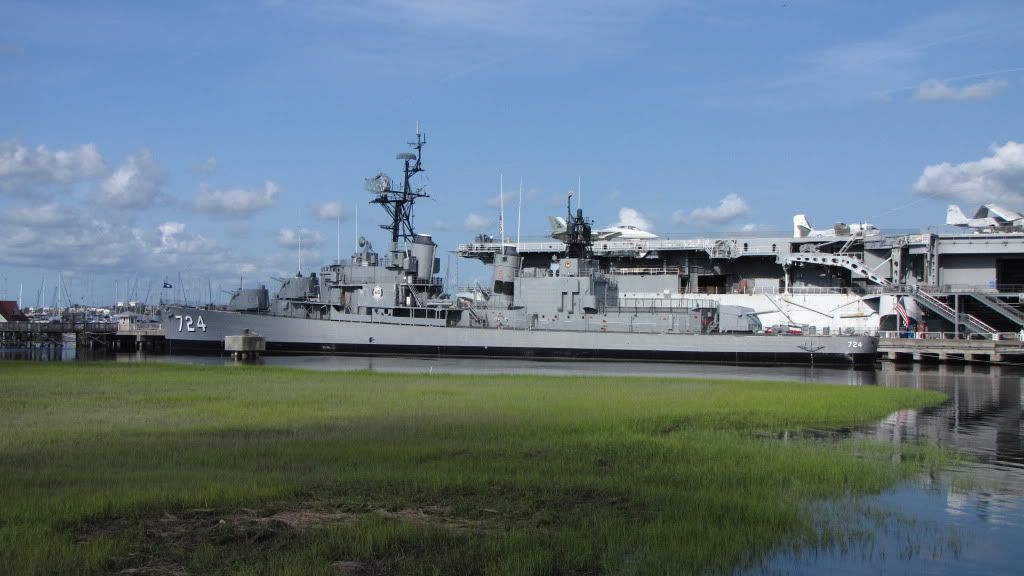 They also had a helicopter ride, that my chicken daughter didn't want to do and a ferry going out to Fort Sumter where some of the first shots of the civil war were fired.
We took the 3 hour tour, 3 hour tour yes I said it, out to Fort Sumter. It was a nice tour! We spent about an hour out on the island. A few dolphins gave all of us a quick show doing some surfacing just a few yards off our starboard side. That's the right for the rest of you.
Some shots along the way to the fort.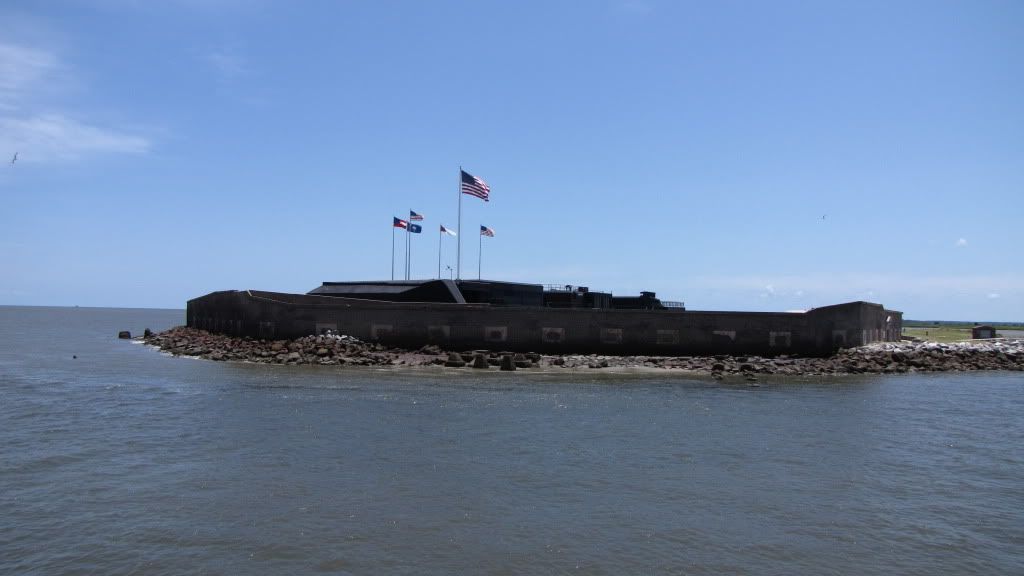 The flag that used to fly over the fort.
I also decided to change our plans for the rest of the trip. Tomorrow was supposed to be just a travel day to Milton FL so we can go see the Naval Aviation Museum in Pensacola. But we aren't that far from Andersonville GA where one of the worst prison camps was during the Civil War. I have always wanted to visit and since we are so close I can't pass it up.
Day four
we are heading out to Andersonville to see the prison camp. We hopped on to the interstate to make some time to get out there so we have time to explore. It's about 300 miles from our hotel in Charleston.
We got an early start about 6:30am and made a run for it. There is a slight chance for rain today, but the heat is supposed to be bad again. According to intellicast every place we are going from here on out is going to be miserable hot.
We made good time getting to Andersonville. We got there about lunch time but for once there is no place to stop and eat. Well I guess we'll eat later. We aren't that far from our hotel in Americus GA.
They have a prisoner of war museum inside the main building everything from the civil war to the present. Some of the artifacts and stories can really get to you! Outside they have the area staked off where the prison walls used to stand. They also have a couple walls set up to show you want the place looked like back in the war. There are several monuments as well.
We then took the road to the cemetery. Talk about a place to put you in awe! The amount of grave stones is shocking. Especially knowing a lot of the men were buried in shallow graves shoulder to shoulder. At one point they were burring about 100 soldiers a day. We also noticed there were some markers for some WW2 vets. Not sure how many other war vets are here because we just took the road and didn't walk the grounds. If you ever find yourself in the area stop by some time!
Around the prison grounds
We made it to Americus GA and found some well needed food we were both famished and our hotel.
Day five
is going to be a fairly short mileage day. We are making our way to Milton FL but are going to stop by a couple state parks along the way.
We started our day a little later since we have all day and no real time limit. So I was looking at Google maps and found Conecuh State Park over by Opp AL and thought it might be a nice place to visit.
We happened to pass through Jimmy Carters home town of Plains Georgia.
Along the way we saw a sign for Providence Canyon so detour time it is. It was only 5 miles off our intended path. Glad we took the detour it turned out to be the highlight of today's trip. We stopped alongside the road before we got into the park and took a couple pictures of some canyons.
Once in the park we paid our 5 dollar parking fee and found the path. The path was fairly easy walking but you need to watch out for the spots where rain has washed part of the trail out.
At the bottom of the main trail you have several different paths you can take. I wasn't interested in taking the multi mile trails so we ventured out and followed this creek bed to canyons 1, 2, 3, and 4. They would be fairly inaccessible if the water was up. You walk the mostly dry creek beds to get there. It was worth the trip!
We also had a good chat with one of the park rangers and the fellow cleaning the place. We sat there and cooled off and chatted for a while. Nice people! The one gentleman asked if we had stopped by the Jimmy Carter sites along the way and I had told him no. Not much of an interest. Here he grew up with Billy and Jimmy Carter.
We left the park and followed the signs to Florence Marina. That was a trip we could have missed. Nothing to really see or do there. We did go in and buy some water and had another nice chat with the locals before we left.
Back on the road and back to our original destination of Conecuh State Park. Nothing of real note happened on our way to Opp. We made our way into the "Park" and I do that because we couldn't tell we were in a park. Just seemed like any other road. So we were getting over heated from another great over 90 degree day and headed to our hotel.
We got into our room and I noticed the clock was off from what time I thought it was. Then as I sent a text message I noticed my phone told me it is an hour earlier than I thought it was. I guess when we crossed the border into Alabama we hit the time change. Didn't know that. LOL
Day six
we are heading to the Naval Air Museum at Pensacola Naval Air Station. Haven't been there since the summer of 86. I'll have to say one thing; the place isn't marked worth a damn. But we managed to find our way there. I was surprised how easy it was to get on base.
We got to the museum a few minutes early so we had to wait to get it. Hopefully we'll have enough time to go over to Alabama and see the USS Alabama too. But there is good ole tropical depression Debra hanging out in the gulf so who knows what the weather is going to do today or tomorrow.
Once in the museum I was impressed on how nice it is on the inside. They have so many displays and things to see it would be too much to describe. So I'll just post some pictures. We did stop in the IMAX Theater and watched a film on flight. This was my first IMAX experience. It was neat but ehhh. It's not all that. I was kind of disappointed.
Some inside shots
By this time it's about noon and we're hungry and out of things to see and do at the museum anyway so we leave the base and stop for lunch. Looks like we are going to have time to get the Alabama in too.
We hoped on I10 to make time to Mobile. Right before we got off the highway we hit a nice back up. Then it decided it was going to rain on us too. But I have to admit it was so hot that the rain felt good. I didn't bother with the rain gear.
Fortunately we got off the interstate about 10 miles into the back up and made our way to the ship. We weren't even that wet anymore and it had only been 15 minutes since we were rained on.
We toured the ship and like the Naval Air Museum I was here back in 86. They have her and the sub in great shape. Both ships are in far better shape than the Yorktown was. I'll post some pics instead of trying to describe everything.
This is what rain out at sea looks like for you land lovers.
The Hunley. Well a replica anyway. Had we been in Charleston, SC on a weekend and not a weekday we could have seen the real Hunley.
The USS Drum
As we are cruising through town on the way to the hotel we are sitting at a red light and guess what drives by. Nope. It was one of those special storm chaser cars. I believe it was the one I saw on Mythbusters.
Looked like this. I didn't take this picture I found it on the net.
Once at the hotel we were going to walk over to Cracker Barrel for dinner since it was close. But as we went to leave it was pouring. So we had to delay dinner for about 20 minutes. As usual the Cracker Barrel was mediocre at best. Never understood why people rant and rave over that place. Never had a meal there that was better than just ok. Again the heat from the day was awful and tomorrow's forecast isn't any better.
If it wasn't for the kid wanting to go to my brothers place I would start heading back to the mountains of Tennessee and home.
Day seven
dawns dry for now anyway. Good ole Deb is still out there in the gulf so it looks like we'll be ok getting out of the area before anything hits.
We don't have very many miles to go to our next stop in Louisiana only about 300. But the forecast is for upper 90's AGAIN! God I hate this!
We get on the road early and it's already in the upper 70's. The first couple hours were nice, but once 9am got here we watched the temp soar 15 degrees in about an hour and a half.
I really don't have any stops planned today; just going to wing it and see what comes along. I keep checking the GPS for cool places to stop.
Finally at a gas stop I see Vicksburg Historical site. It's about 80 miles away but right on our intended path. Sounds like a plan to me.
We get to Vicksburg just before noon so no lunch for awhile. We pay to get into the park and head to the visitor center. Here we are greeted with air conditioning and a short movie explaining everything that happened here.
Turns out Lincoln ordered the city taken to cut the Confederate Armies in half basically. The city was a major port for resupply for Confederate troops. General Grant kept getting his butt kicked trying to take the city. He finally got in by siege. He starved the rebs out.
Outside they had a little camp set up with some guys in period clothing and this young kid came up to us as we walked over and asked where we were from. I told him Ohio and he said "well that's ok." I got a good laugh out of it. He explained some things to us and said to check out the city too after we do the driving tour.
We took the driving tour and unlike most of the Civil War sites I have been to there was a good amount of Ohio boys at this fight. They had monuments all over the placing showing where the different states had their armies stationed around the city. A few of the states have some huge monuments to their boys! Amazing how many Ohio monuments there were.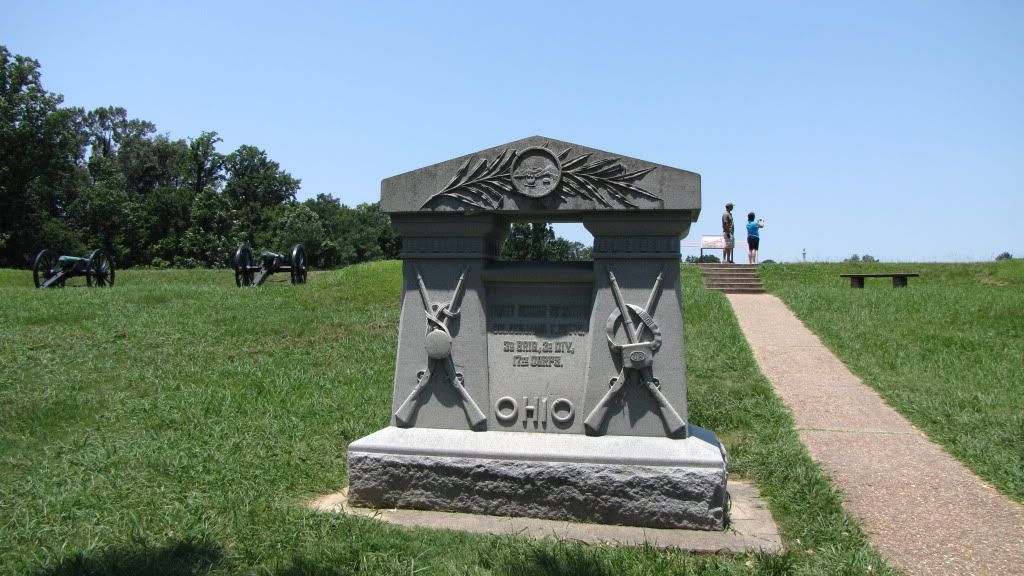 We met a guy there taking the tour too and we were talking and he told us that his Great Great Grandfather was killed in the area and his Great Grandfather was a 12 year old drummer boy in the area.
They also found a ship buried in the Mississippi and dug her out and have preserved her. The USS Cairo.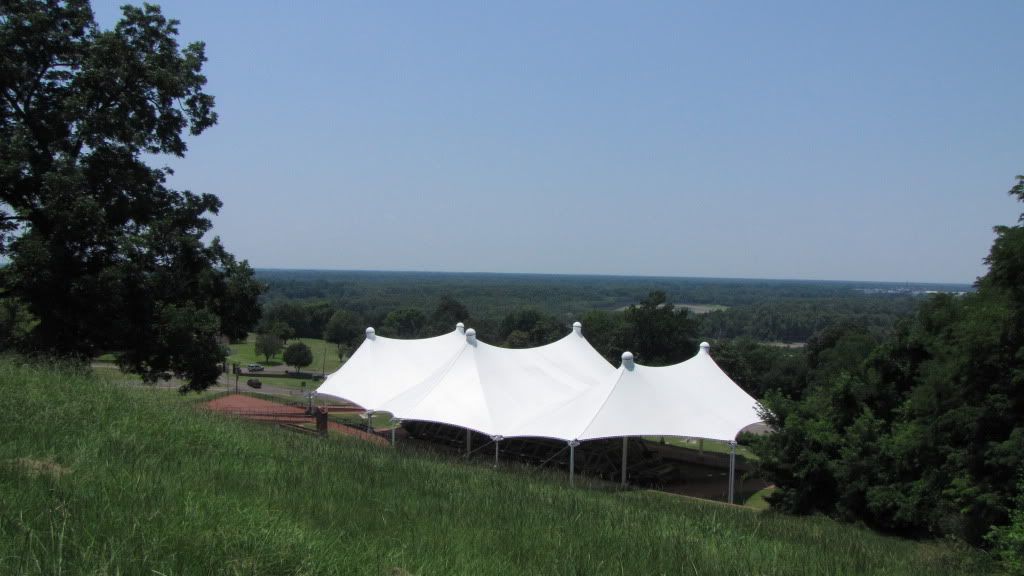 We went through part of the city but didn't stay long due to the oppressive heat! According to the bike's thermometer its almost 100 degrees!
So we skip lunch and decide to just make time for the last 75 miles to Monroe, LA. As we're cruising down the interstate I keep watching the temp rise. It got as high as 104! We stop by Longhorn Steak House for Linner as I like to call it. Lunch and dinner all at once.
At the hotel checking the forecast for tomorrow is even worse! 107 at Van Buren, AR where we're heading next.
Day eight
starts out with a fire alarm. Yes the smoke detector over Savannah's bed decided to start going off at 4:46am for no apparent reason. I had to take it down off the ceiling to get it to shut up.
Then breakfast was half a bust. They only had half the stuff out and we were in a hurry to get on the road to try and beat some of the heat.
It was a beautiful 70 degrees when we left the hotel. The first 100 miles of the trip was very pleasant! Then the heat started building and man did it build! The temp got as high at 108 before we made it to the hotel on the bikes thermometer.
By 10am it was almost 100 and climbing. This heat really takes the fun out of a trip like this. Today we didn't make any side trips or even stop and see anything. The heat was just too miserable.
Stopped along to road for a quick break. Talk about run down!
Some more shots from the road.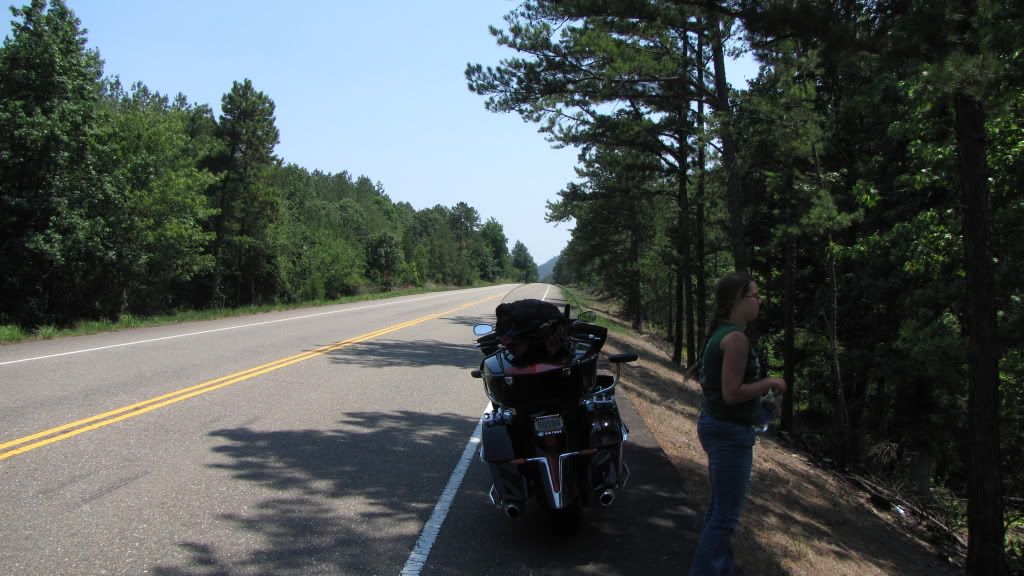 Check out the temp! We saw 108 as a high on the day. The bike handled the heat well but I didn't!!
We did manage a few new states. We rode in Arkansas, Texas, Oklahoma, and then Arkansas again to make it to our hotel. I doubt we'll do any more new states before we head home. We are going to spend the rest of our trip in Missouri at my brother's place.
Day nine
is going to be another hot one, but not quite as bad as yesterday. It's only supposed to be near 100. We only have about 300 miles to go to my brother's place so I didn't worry about getting up too early.
We got on the road about 7 am and started our trek north. We hit the interstate first which helped up make some time. We rode through Bentonville Arkansas where Wal-Mart began, who knew?
We got off the interstate and found ourselves on 62 heading north. I kept seeing signs for Pearidge National Military Park. I had no idea what that was but when we saw it on our left it's another Civil War Battlefield so I decide we'll make a side trip today.
We had to pay 10 bucks to get in which wasn't bad. This park is another park that is a driving tour, seems to be a popular method around here. We spend some time in the park office and watched their half hour introductory movie explaining everything that went on here.
We spent some time riding the park and found a few deer at the same time.
We stopped at the Elk Horn Tavern where an older gentleman was dressed in period cloths and he went through some of the local history with us. That was neat!
It was used as a field hospital.
Some sites from the battlefield
Back on the road the heat was climbing again! I am so sick of this heat! We still have about 3 hours of ride time left to get to my brothers place.
I had planned on stopping by Fantastic Cavern and Crystal Cave just outside Springfield, MO. But it was getting very hot and I said the heck with it and just kept going north. Plus it will give us something to do tomorrow.
Day ten
is going to be a spelunking day. Well sort of, we will take a guided tour of some local caves. There is Fantastic Cavern and Crystal Cave. I was going to visit these last time I was here but ran out of time.
We head down 13 south to Springfield, MO to Fantastic Cavern. It's a locally owned cavern and you ride behind a jeep in a wagon. I have never been on a driven cave tour before. This should be neat.
We get to Fantastic Cavern right before 2 school busses arrive. So we hurry in to get our place in line to buy tickets before the mad rush. This turns out to be a good thing because we had no wait to get into the Cavern.
The tour isn't very long, maybe a half hour. One cool thing we learned while in there is that they have a huge stone that was turned into a stage back in the 60's. Country legends like Tom T. Hall and Buck Owens have performed here.
A picture of our driver and tour guide. She's explaining the use of the steam engine that used to provide power back in the day. It still works!
Some shots from inside the cavern.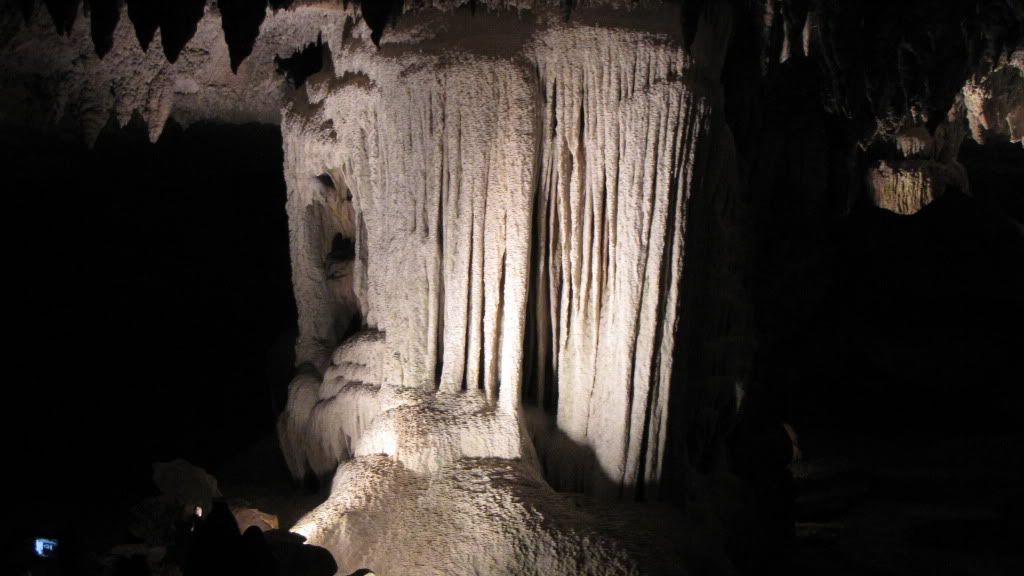 After lunch in town we headed out to Crystal Cave. We got to the entrance just to find out it's been closed down. So why do they still have advertisements on the road? Anyway at this point it's getting pretty hot again so we head back to my brothers for the day.
Tomorrow is supposed to be over 100 again so I think we'll take a day off! I have said it a lot already but this heat is killer.
Day 11.
Too hot to go out and do anything today so we just hung out around the house.
My Brother got out the guns. He got out his .45 and 30.06 neither of which had I ever shot. This should be fun. First he gets out the .45 and I take a couple shots. Didn't do well but at least I hit the target. lol
I ask Savannah if she wants to shoot it and she won't have any part in it. So I tell her shoot the .45 or no horses tomorrow. So in tears she reluctantly gives in. See the results below.
Then I got to shoot the rifle. After 4 shots I was in the red at 75 yards. Not too bad for a rookie. Couldn't talk Savannah into shooting that. She did how ever like shooting the .22
The last day. Today is just a haul ass I 70 day. Have almost 800 miles to go to get home.
We get on the road a little before 5am local time or 6am Ohio time. There are pop up showers off and on all day long but we manage to miss them all. One set near Dayton we split. We had rain to our north and south at the same time.
We made it home in about 12 hours ride time. My best time yet. lol But about 2 hours after I got home the storms rolled in. Nice!
Over 14 days we did 17 states and just over 3700 miles. Would have been more but I didn't go to Kansas or Nebraska like I had planned because of the heat.
We were in Ohio, West Virginia, Tennessee, Virginia, North Carolina, South Carolina, Florida, Georgia, Alabama, Mississippi, Louisana, Arkansas, Texas, Oklahoma, Missouri, Illinois, and Indiana.