Well if you live anywhere near Ohio you know we have had a VERY wet spring. This time last year we had made a few group rides, and I had made several rides on my own. But May is more than a week old and I haven't broken 200 miles in one day yet this year. That changes today!
I decided that my bike and me needed a date! We hadn't enjoyed time together in almost a month now. So I got my self ready around 8am and we headed down the road.
The destination is a very well know area that I have been to numerous times. Especially with the group. Gotta admit it is more fun when all of us are together than just when I go it alone.
I headed into Ashland to get some cash because I have a special spot in mind for lunch. But more on that later. I get to the ATM just to find it closed. Great! So I head for I71 and on to Lexington to pay the bike insurance that is due tomorrow.
Bill payed and back on the road I hit a couple buttons on the Zumo and look for Chase bank to find an ATM. When I am getting hear Polaris Parkway I see there is one only a mile away. So off the interstate I go in search of cash.
While looking for this "ATM" the Zumo says is here. This is what I find.
But I do look more and there is an actual bank just down the road. Cash problems fixed and back on the road.
Coming into Columbus I see 3 yes I said 3 Ohio State Patrol on bikes! One with a customer. Speaking of the Patrol. They were thick all day. But since I am not much of a speed demon I didn't have much to worry about.
I take 270 east to 33 east looking for State Route 374. This will take me back through the Old Man's Cave area. A great set of roads that never get old. Here I am just getting on to 374.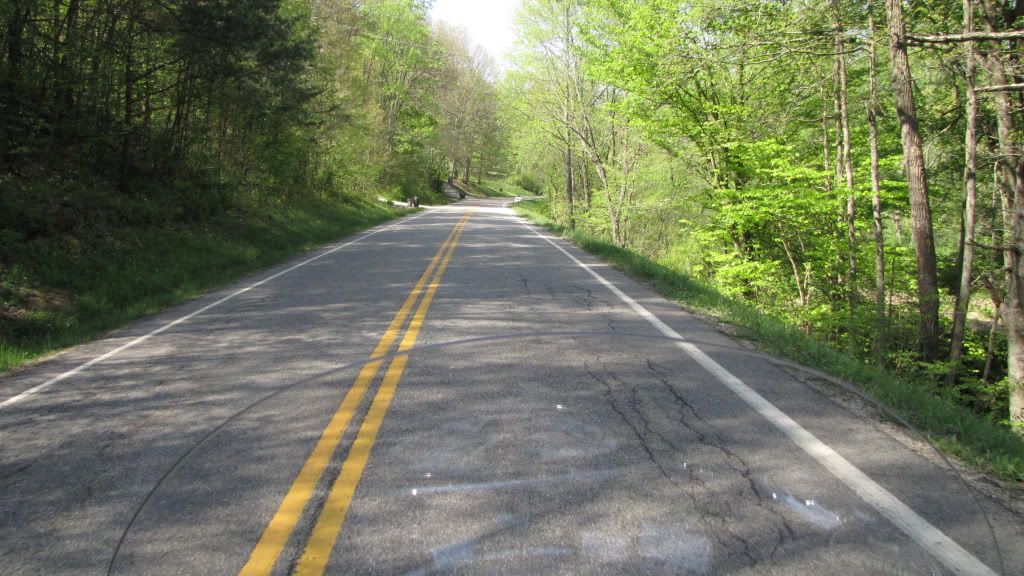 I stopped at Cantwell Cliffs to take a short break and take a Cell Phone pick and send it to some friends to poke fun that I am out enjoying this beautiful day! Kept cruising down 374. Passed by Old Man's Cave and kept going. I saw the sign, as always, for Cedar Falls. I have never stopped here. Well that is going to change today! And am I glad I stopped. The path was easy to walk. Since I was there on a Monday there were few people around.
After a short hike to the bottom I was greeted by these great sites. The rock cliffs looked great with the touch of water still on them!
Then the falls itself was awesome! Here is a still and video for you to enjoy!