Things are finally working out for my Daughter and I to make another road trip together. Today we are going to Beaver Creek State Park after a friend and fellow rider suggested it would be a good place to visit.
The weather was supposed to be beautiful with a litle moring patchy fog. Those last two words were a major understatement! I made sure we both had our rain gear on to start the day just incase the fog got thick.
I woke her up about 6:30am and she looked at the clock and said, 6:30, are you serious. LOL I thought it was funny. That's only 10 minutes later than when she gets up for school. I told her either get up and come with me or stay home and sleep all day. She got up.
The weather when we left the house was beautiful! It was in the low 60's and just some tiny patches of fog, which made for some beautiful scenery.
We took 250 east toward Canton. A route which I have been on hundreds of times. Not much to see but there just isn't a better way to head towards Canton from where I live. Also its the same way to where my Brother used to live.
As we got close to Wooster the fog really started to get thick. Good thing we were wearing our rain gear. The bike, which was just polished yesterday, was getting soaked. Almost as bad as if it had been raining. The one good thing is the fog was light enough that it wasn't messing with my visor or getting realy thick on the windshield. When we approached Canton the fog came to stay! It stayed thick for the next several hour and miles.
As we pulled off the main road and into the park the road went to crap! It was very bumpy and a lot of broken asphault and pot holes. The worst entrance to a State Park I have ever experienced. But, the scenery was awesome!
The park was all but empty when we got there. I think the morning fog kept a lot of people home this morning. We got in the park about 9am. It was great having the place almost to our selves.
We stopped to pose for a picture and get the bridge into the background.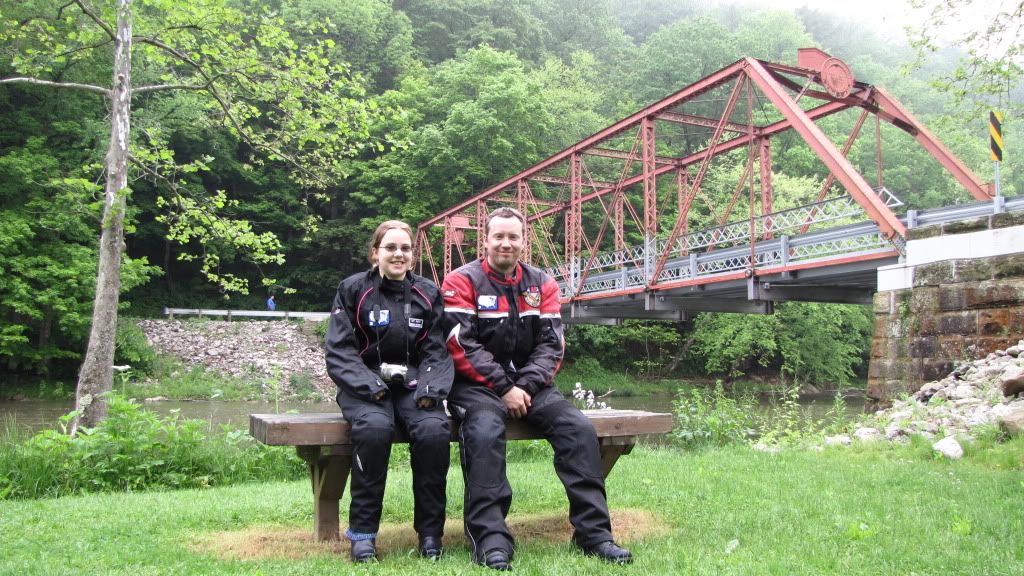 A little history lesson.
A lock from when this was an important water way.
Some of the buildings and the old mill.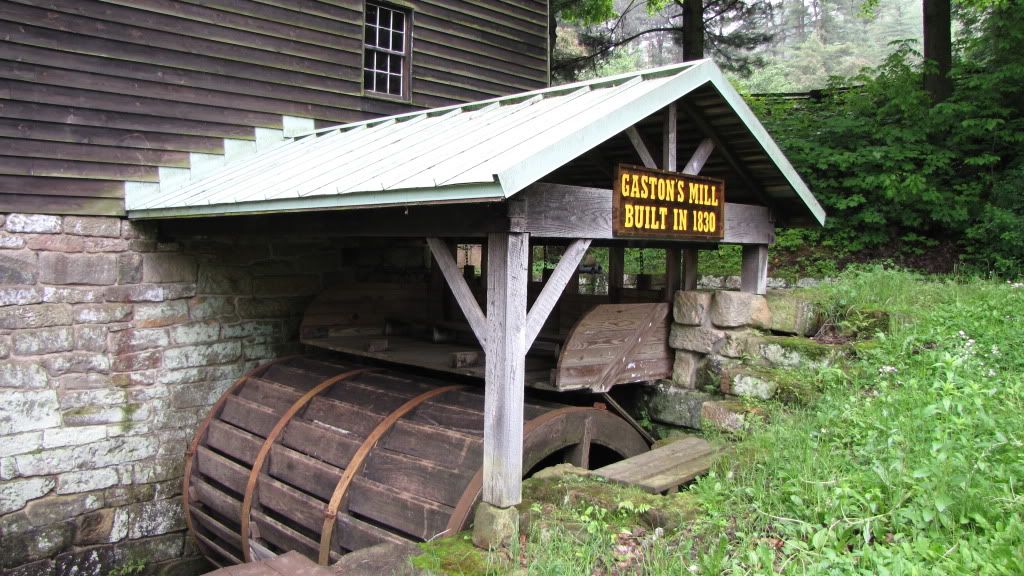 Heading out of the park I spotted some deer ahead. So I stopped the bike hoping to get a picture. Two of the three took off into the woods but one wanted her picture taken. So I zoomed in and snapped a few shots.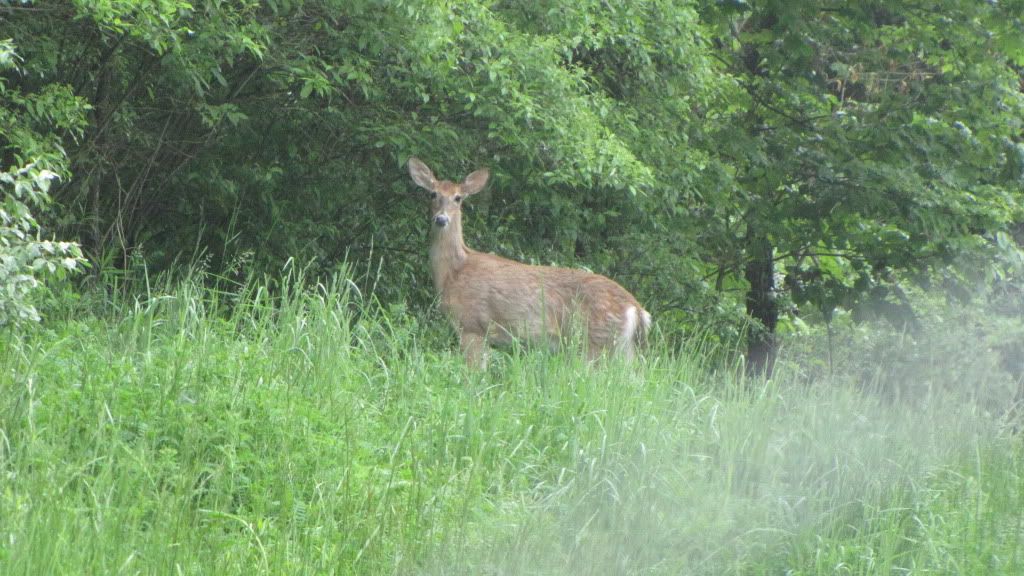 We were pretty close to the Pennsylvania and West Virginia borders so I decided to take a short trip so she could cross 2 more states off the states she's ridden in. We got back on 30 for the trip east. We crossed into West Virginia and then just a few miles later into Pennsylvania. We then turned south on 168 to start heading home.
Not sure why but in this part of Pennsylvania they keep the speed limits down to 45 on the open State Routes. Makes for slow going but at least it was pretty enough of an area to keep you happy.
We picked up 22 to bring back into Ohio. One more short trip through West Virginia and we were back in Ohio. Here is a picture of the cool looking bridge as we came back into the State.
We turned off 22 onto 43. This is a road in good shape with enough scenery and twists to keep you focused and entertained. As it was approaching lunch time and I was getting hungry we stopped at this little ice cream stand in the middle of no where and got some hot dogs and ice cream. Does it get any better? LOL The fog had finally started to burn off while we were here and the sun and heat were coming on strong!
After our short break we were back on the road and heading into Carrolton. I was going to stay on 43 and head back to Canton, but as I came up on 39 I decide at the last minute to go that way. I had never been down this part of 39 before and today seemed like a good day for it.
The road was in good shape and had plenty to look at as we traveled. Can't remember what town we were in but I thought this old building's paint job was pretty cool!
We got into New Philadelpia on 39 and cruised through town. Came across this old truck.
We hopped on the express way and made it back to 250. Just outside of Strasburg is the Beach City Dam. I had always meant to stop and look around so why not?
After our short stop we got back on 250 and finished the ride home. All and all we did 277 miles on the day and had a great time!